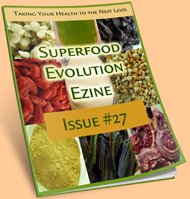 ~~~~~~~~~~~~~~~~~~~~~~~~~
IN THIS ISSUE:
Summer Season and The Fire Element
Top 10 Summer Superfoods
Recipe - Goji Berry Lemonade
~~~~~~~~~~~~~~~~~~~~~~~~~~


---
---
Summer Season and the Fire Element
Here in California the summer season is fast approaching with long active days filled with creativity, growth and expansion. The summer, being the most yang time of the year, is a time when the body experiences vigorous metabolic or "body energy" processes that cultivate yang energy with an outgoingness and a moving outward in our lives. In Ayurvedic medicine it is a season when the "pitta dosha" tends to overheat. It is therefore important to eat foods that work in conjunction to help balance and support our superhealth in the highest way possible.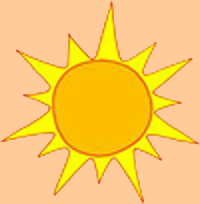 The summer season corresponds to the Chinese element of fire, which represents the heart, small intestine and the blood vessels. An imbalance in any element can cause problems with its related organs and systems. Since "fire" is summer's Chinese element, "water" (its opposing element), and foods that hydrate the body, become imperative. Some of the negative side effects of "fun in the sun" include sunburns, lack of energy and dehydration. In addition, when the fire element is out of balance one can feel agitated and anxious, with symptoms like insomnia and heartburn.
Here is our list of top superfoods to help you beat the heat and find balance within these warmer months. The superfoods below all help in their own unique ways to either hydrate the body, reduce inflammation and heat conditions and/or support digestive flow and heart health.
---
---
Top 10 Summer Superfoods List
1) Aloe Vera - Aloe gel is a superfood that can be used both internally and externally in hot, dry climates to cool and lubricate the skin and digestive tract. Aloe vera is extremely cooling to the body and perfect for heat conditions, helping to sooth inflammation in the body and joints. (See our aloe vera page for more info.)

2) Spirulina - Spirulina has a particular unique relationship with the sun, in that it has the ability to take in large amounts of sunlight through its cell walls, converting it into a protein rich food that helps to sustain energy levels. We consider spirulina to be an essential superfood algae for summertime. It helps to not only cool and detoxify the body but also provides UV sunlight protection. (See our spirulina page for more info.)

3) Camu Camu Berry Powder - Camu berry provides clear, smooth skin and guards against the effects of aging. Through its ability to enhance collagen levels, it tightens and gives elasticity to skin, preserving a youthful glow and appearance. It is super effective when combined with MSM powder for rejuvenating collagen. (See our camu camu page for more info.)

4) MSM Powder - MSM stands for Methylsulfonylmethane and is a naturally occurring solvent and sulfur based compound. Increasing your intake of MSM powder daily is especially helpful in building tendons, ligaments, and muscles. It works to rebuild collagen levels and provides greater flexibility in the joints, by helping to dissolve the source of stiffness, pain or inflammation.

5) Reishi Mushroom - Reishi provides an "inner calm" and nerve rejuvenation, helping one to sustain high levels of energy throughout a hot summer day. Known as the "herb of spiritual potency", it also works with heart energies and spiritual nature often associated with the "fire element".

6) Chia Seeds - Chia is one of the best superfoods for hydrating, lubricating and provided long lasting energy to the cells. They work to cool and sooth inflamed areas of the body. (See our chia seeds page for more info.) 7) Amla Fruit - Amla is a cooling pitta fruit and believed in Indian culture to be good for the emotional heart as well as the physical heart. It is known to stimulate the production and regeneration of red blood cells, in addition to soothing pain caused from inflammation of the joints.

8) Schizandra Berry - Schizandra is a major Chinese adaptogen known for it's effects at "moistening the tissues" and keeping the skin supple and soft, which also protects it from the damaging effects of too much sun. This is my favorite Chinese tonic to use in summertime and the tea is a great addition to drinks and smoothies. See our Goji Berry Lemonade recipe below.

9) Cucumber Juicing - Cucumber is one of those renown water rich vegetables (or actually fruits). Using cucumbers in your fresh raw green juices helps to lubricate the tissues and cool the body from excess heat. They are known to be especially beautifying to the skin.

10) Goji Berries - Goji is not only packed with antioxidants, it is also a source of beta carotene and Vit C, which both work together to protect the skin from too much UV radiation. Goji's are packed with lycium barbarum polysaccharides (LBPs), which provide smooth and youthful skin membranes and anti-inflammatory qualities.
---
---
Recipe of the Month:
Goji Berry Lemonade
This is a wonderful refreshing "orange lemonade" to make on a hot summer's day that includes a few of our recommended summertime superfoods to keep you cool, energized and invigorated.
Ingredients:
3/4 quart schizandra tea
4T goji berries
1 cup of fresh lemon juice
3T raw honey
1/8t stevia or 10 drops stevia solution
2T aloe vera
1/2t camu camu
pinch sea salt
Directions:
1 quart schizandra tea: Simmmer 2T schizandra berries and 1T goji berries in a one quart of water for 20 minutes. Allow to cool.
Strain tea and add the remaining ingredients (except marine phyto) and blend in a high speed blender.
Strain liquid through a fine mesh strainer or nut milk bag.
Add 3 drops of marine phytoplankton and stir.
Serve with ice and a lemon round or wedge.
Makes one quart or so of lemonade.
Keep this fresh lemonade recipe in the fridge on a hot summer's day for a tasty, refreshing superfood drink.
---
---
Until our next issue...
May you thrive, prosper and evolve in the best of ways!
SUBSCRIBE TO OUR: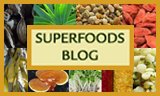 All information in this ezine is the personal view of the author and is for educational purposes only and not intended as medical advice, diagnosis or prescription. This information has not been evaluated by the FDA and is not intended to cure or prevent any disease.
---
---