Sprouts and Food Safety
Do They Contain Toxins?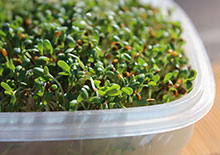 Sprouts consumed from sprouting seeds have received a lot of negative media attention regarding their safety for human consumption. This controversy started way back in the mid to late 1990's when the U.S. Food and Drug Administration issued a warning to the general public not to consume raw sprouts because of reported contamination of pathogenic bacteria, chiefly Salmonella and Escherichia coli. This was a result of a multi-state outbreak of E. coli infections that occurred in the United States from the human intake of alfalfa sprouts. It was later discovered that the actual seeds themselves were the source of contamination and "traced back to one common lot harvested in Idaho."