Benefits of Cranberries
Are They a Superfruit for UTI's?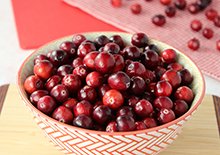 The health benefits of cranberries in modern times are also often utilized as a superfruit variety for their array of nutritional nourishment. Cranberries, and especially cranberry juice, have long been reputed to protect against urinary tract infections (or UTIs), particularly those caused by the Escherichia coli bacteria which accounts for about 80–85% of the cases. Learn about cranberry products use as a potential preventative strategy, plus info on 2020 FDA UTI claim specifications.