Coconut Bacon Bits, A Tasty Vegan Bacon Alternative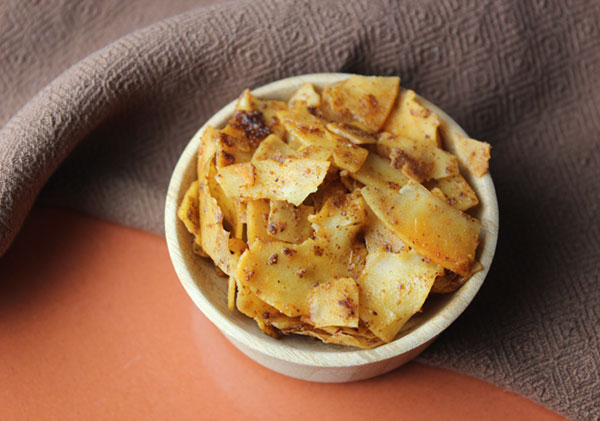 Our coconut bacon bits recipe makes a great topping for salads, meals and is even delicious as a crunchy snack eaten by the handful. It's crispy, salty, smoky-sweet and tastes pretty darn close to bacon, but it's completely vegan and pig friendly!

What is coconut bacon? When most websites use the term "coconut bacon" they are most always referring to dried coconut slices or pieces that have been baked with spices. They are not the long traditional shape of bacon strips, but are more like "bacon bits."

In this vegan recipe version, we use a food dehydrator instead of an oven as well as high quality, organic, dried raw coconut that has not been toasted.
Today, there are a few coconut bacon products on the market. However, it's hard to currently (as of early 2017) find brands that don't use toasted coconut or bake their "bits" at high temperatures.

This is when we came up with a DIY dehydrated coconut bacon recipe using our own special blend of superfood spices. It took some experimentation to get down, but along the way learned a few tricks we share below.

While it is easy to initially prepare, usually in less than 5 minutes, it does require some time to dehydrate. We try to make two batches at once since it stores well and will last for many weeks and even months when thoroughly dried and kept in an air tight container. For that reason, we give two recipe options, a 16oz and a 24oz.

How to Make Coconut Bacon Bits
Favorite Bacon-like Flavorings - There are several ways to give the coconut a nice bacon-like smoky taste. While many recipes use liquid smoke to achieve this goal, we rather opt for more natural alternatives. Our five secret smoky flavorings include: mesquite, shilajit, smoked paprika, chipotle and smoked salt.
Coconut and Coconut Oil - Coconut meat makes for the perfect high fat vegan food source to infuse these spices. It's about as close as you can come to the fatty texture of bacon. Adding a little bit of coconut oil also increases that characteristically "greasy" bacon flavor and helps to distribute the mix of seasonings.
Type of Coconut - The most convenience type of coconut to use for this coconut bacon bits recipe are dried sliced coconut pieces, preferably raw and organic. They are very fast to dehydrate, compared to fresh coconut meat, and produce a nice crispy texture. You can find coconut slices online in 16oz packages and occasionally some health food stores have them in bulk bins or as a packaged product.
As a secondary option, you can also use coconut flakes or shredded coconut. Just make sure whatever you purchase is raw and not toasted if you're wanting to get highest health benefits. Coconut meat is always an option, it just requires more time cracking open the coconuts and slicing up the soft white flesh into thin strips. But, if you happen to love Thai coconuts or have access to an abundance of green coconuts, they are the very best to use when making your own coconut bacon bits.
Pure Maple Syrup - The addition of maple syrup gives this recipe a crispy crunchy texture like that of grilled bacon and also provides a subtly sweet taste.
Apple Cider Vinegar - Just a touch of raw apple cider vinegar, adds the perfect balance close to that bacon savoriness and slight tanginess most people are familiar with.
Coconut Bacon Bits Recipe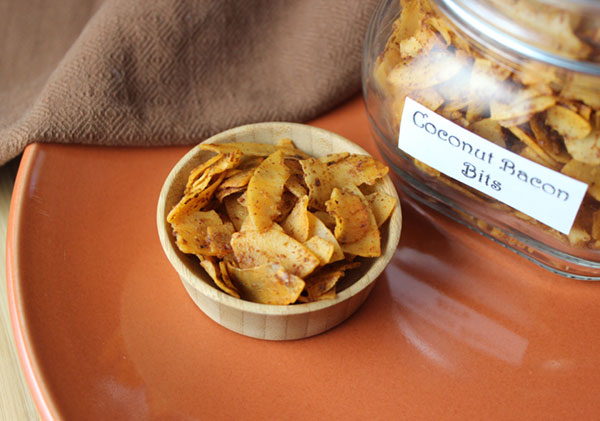 All ingredients can be altered according to taste preferences (ie: less salt more sweet, less spice or vice versa).
These two recipe options yield approximately 4 and 8 packed cups of coconut bacon bits.

Ingredients:
16 Ounce Recipe

16oz bag of dried coconut slices
3T coconut oil
3T maple syrup
3T mesquite powder
1T apple cider vinegar
2t smoked paprika
2t nama shoyu or gluten-free tamari
1t chipotle powder (or chili powder)
1/2t smoked salt
1/4t shilajit (or 2 opened capsules)

32 Ounce Recipe

32oz bag of dried coconut slices
6T coconut oil
6T maple syrup
6T mesquite powder
2T apple cider vinegar
4t smoked paprika
4t nama shoyu or gluten-free tamari
2t chipotle powder (or chili powder)
1t smoked salt
1/2t shilajit (or 4 opened capsules)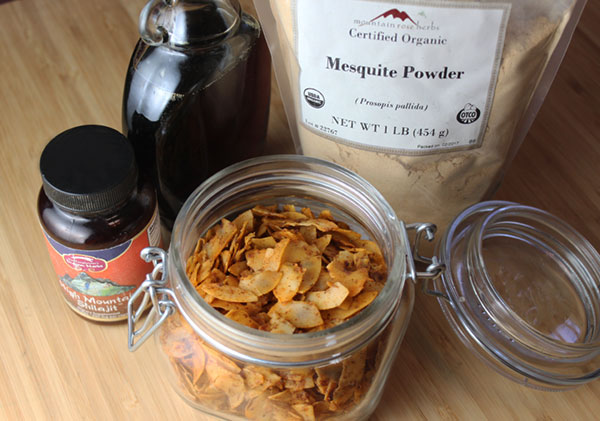 Directions:
In a large mixing bowl, add soft/melted coconut oil, maple syrup and all other ingredients except the coconut slices and whisk together to form a paste.
Add coconut slices and mix to thoroughly coat. We do this by using a spatula to turn up the paste from the bottom of the bowl. Repeat until evenly coated.

Allow to sit in this paste marinade for 10 minutes to absorb.
Divide the batch in half (or quarters) and place on two (or four) dehydrator trays (with a screen and Paraflexx sheet on top).
On low-medium heat, dehydrate for approximately 8-10 hours or until dry and crisp.
Half way through dehydration, it is a good to break up the layered pieces to increase the drying time.
Remove and let cool at room temperature for an hour. It will actually great crispier after it sits a bit.
Store your coconut bacon bits in an airtight container in a cool pantry location.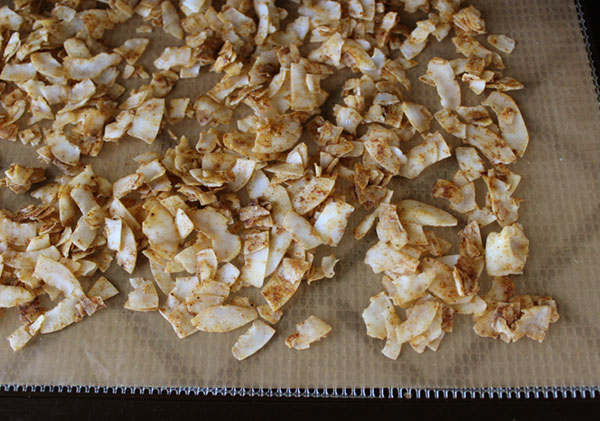 You can leave your coconut in large pieces or crumble onto foods as a condiment topping.

This coconut bacon bits recipe is very versatile, so remember you can adjust the spices and ingredients to your own liking.

You can use them as a bacon alternative on raw/vegan BLT sandwich's, consume them as a snack or as a topping for salads, soups, or even on potatoes if you wish.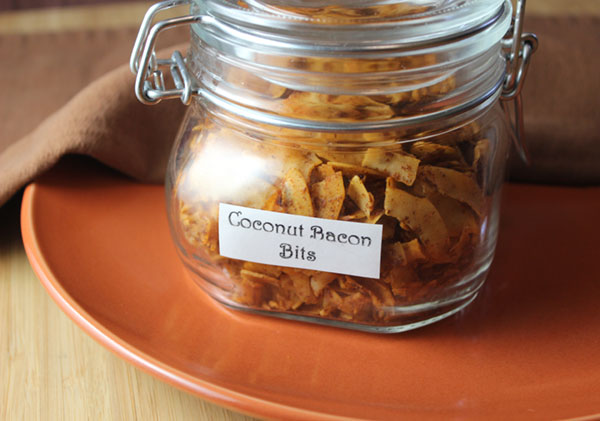 Affiliate Disclaimer: This section contains affiliate product links. If you make a purchase through one of our recommended links, we will receive a small commission at no additional cost to you. Thanks for the support!
Affiliate Disclaimer: This section contains affiliate product links. If you make a purchase through one of our recommended links, we will receive a small commission at no additional cost to you. Thanks for the support!