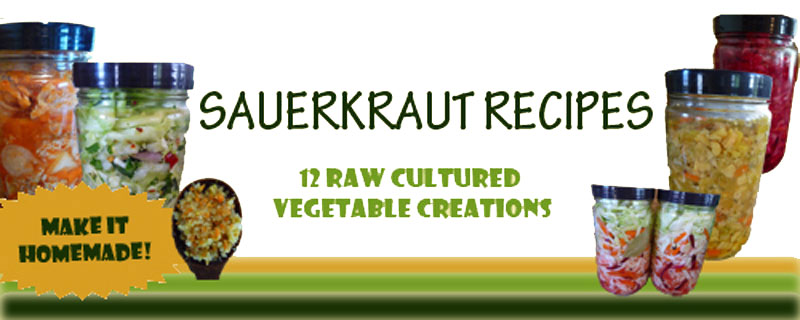 Sauerkraut Recipes Book,
Make Your Own Sauerkraut Using Our Favorites
Here in our sauerkraut recipes book untitled, "Sauerkraut Recipes, 12 Raw Cultured Vegetable Creations", I detail everything we've learned from over 15 years of raw cultured kraut making.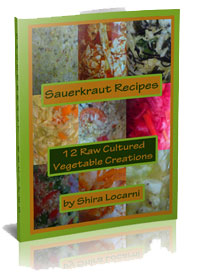 In this digital ebook we introduce the process of making delicious, vibrant, naturally fermented sauerkraut's in an easy to understand manner with step by step directions for our top 12 favorites that we've made time and time again.

I'll share secret tips and techniques we've learned the hard way so you don't have too. 

You'll learn how to create colorful, full proof, vivacious sauerkraut's that blend unique cultural flavors and spices.  Also, some top superfoods and herbs are integrated into many of these recipes which further increase their nutrient content.
This sauerkraut recipes book is perfect for both the newbie sauerkraut maker or those with more experience and is especially exciting for those who want to expand their cultured vegetable repertoire!

-For Only $5.95-
Available in ebook format, a downloadable Adobe PDF file!
Using either paypal or a major credit card
-OR-

For other formats for Kindle,
Apple iPad/iBooks, Nook, Sony Reader, Kobo, and most e-reading apps including Stanza, Aldiko, Adobe Digital Editions,  and others
-Only $2.99-
CLICK HERE!
(This version does not include photos)

Taking Your Sauerkraut to the Next Level!
Although we are quite fond of basic sauerkraut recipes that you can find on most websites and books on the subject, we just want to let you know that you do not need to limit your ingredients list to just cabbage, carrots, ginger, lemon and salt.
Recipe Photos Included!
I personally enjoy lots of photos when I use recipe books to keep me inspired and encouraged. It's kind of like a little vision board, with the potential end result in full color, right on the page. We have included many pics in our sauerkraut recipes book for this reason.
When you eat sauerkraut on a regular basis, like we do, it is nice to have more than one basic recipe to choose from.
We have enjoyed, over the years, crafting sauerkraut's as a culinary art form, using different recipes every month to change things up with eclectic and enchanting new flavors to explore and delight in. This ebook is the end result of this fermentation process.
These 12 sauerkraut recipes, not only keep the taste buds happy, they take things to the next level, incorporating some surprise superfood ingredients that are enhanced by a cultured powerhouse of friendly flora for your inner body ecology.
Sauerkraut Recipes Book Highlights Include: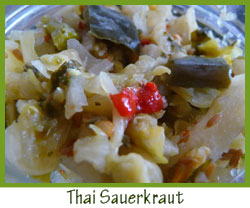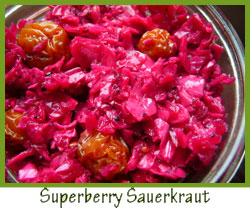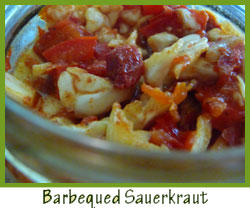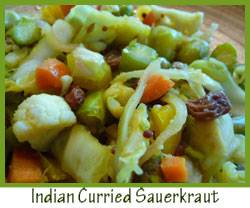 Thai Sauerkraut - If you are familiar with the wonderful flavors of Thai cuisine, you will simply love this cultured collage blending the best of Indonesian food, flavors and spices.

Superberry Sauerkraut - The main flavor focus of this superfood packed sauerkraut was to provide a sweet and tangy berry filled kraut, using some of our absolute favorite superberries on the planet.

Barbequed Sauerkraut - This is a loved kraut specialty that tastes like it came grilled from a barbecue with a smoky sweet flavor that is hard to stop eating.
Indian Curried Sauerkraut - This one blends the best of East Indian spices and veggie combinations for a unique curried kraut taste sensation.
Plus you'll get an additional 8 more recipes!

(And 8 more bonus recipes for a total of 20)

---
"Sauerkraut Recipes, 12 Raw Cultured Vegetable Creations" contains recipes that you can use to…
Improve your digestion and help to eliminate gas and bloating
Save money on expensive sauerkraut brands
Boost your immune system and energy levels
Detox and cleanse the body of undigested waste material and toxins
Improve your mood by improving your inner body ecology
Reduce inflammation by consuming healthy bacteria
Reverse the damaging effects of a SAD diet
Share with friends and have sauerkraut making parties
Satisfy the taste buds and help with food cravings

Table of Contents
Sneak Preview of PART 1 & PART 2:
Here in this 86-page ebook, we also include lots of detailed information, tips and techniques to get you started.
PART 1: Introduction

         MY PERSONAL JOURNEY WITH SAUERKRAUT              
WHY EAT SAUERKRAUT?
What Exactly Makes Sauerkraut So Nutritious?
For Those New to Eating Sauerkraut
SAUERKRAUT'S CULTURAL HISTORY
WHY MAKE YOUR OWN SAUERKRAUT?

PART 2: The Fermentation Process

BASIC PRINCIPLES OF FERMENTATION
ADDING A PROBIOTIC CULTURE STARTER
CREATING AN ANAEROBIC ENVIRONMENT
A WORD ABOUT SALT
WHAT IS NORMAL AND WHAT IS NOT
TOOLS FOR FERMENTATION
Choosing Your Fermentation Vessel
Basic Tools You Will Need:
PACKING THE SAUERKRAUT
Using A Weight
Using A Tray
COVERING YOUR KRAUT
FERMENTATION TIMES AND TEMPS
General Temperature Guide Rules:
How You Can Tell When It's Done
GETTING READY TO MAKE YOUR SAUERKRAUT
How Did I Personally Learn How to Make Sauerkrauts?

Over 15 years ago, I was plagued with a candida infection after taking a super-duper dose of antibiotics to kill a deadly staph infection.
Soon after that I began to read The Body Ecology Diet by Donna Gates. It had just hit the bookstores and was sweeping the health conscious community I lived in at the time. This book was one of my first introductions to the idea of making homemade raw cultured vegetable recipes.

Buying Vs. Making

When I first discovered my love for sauerkraut I spent a lot of money buying raw commercial brands. At that time, not too many people I knew were making it themselves.
But, eventually, I decided to give it a go and see if I could do it successfully. I was admittedly a bit nervous about the idea of fermenting something that I was going to actually eat. Being an American, I really knew little about cultured foods, just that I loved the taste and was reaping the health benefits in a major way. (ie: improved digestion, increased energy and better sleep)

Making It Homemade!

By nature I am a "make it homemade" kind of person, so it made sense that I would start fermenting them for myself, especially with the amount that I was eating. I couldn't seem to get enough.
It didn't take long before I was concocting sauerkraut by the gallon and began sharing it with friends and neighbors. I would actually custom make labels and give small jars to people as gifts. 
Then, One Day!

First were the basic recipes, I got those down pretty quick, and for a number of years never really thought about other possibilities to tell you the truth.
Then, one day after reading some books on the history of kimchi and sauerkraut making traditions around the world, I started to write down a few ideas. What better way to start evolving with my own recipes than to get some ethnic inspiration straight from the experts.
I began using many different spices and other ingredients, along with techniques that have been used for thousands of years in these other cultures.

Together, with my love and interest in other superfoods, I began to take these old-style customs and blend them with my own. With my husband and friends as my guinea pigs, these are the recipes I have fermented into existence and now present in this raw sauerkraut recipes book:
"Sauerkraut Recipes,
12 Raw Cultured Vegetable Creations"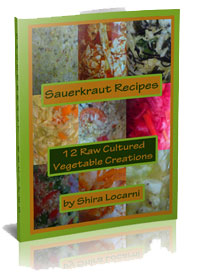 Plus Bonus Recipes!

In addition to my top 12 favorite recipes, you will also receive 8 BONUS recipes including:

PICKLED CULTURED VEGETABLES
SALTLESS SAUERKRAUT
PICKLED GRAPE LEAVES
HOT PINK LEMONADE SAUERKRAUT
CURRIED SAUERKRAUT BREAD
ITALIAN SAUERKRAUT CRACKERS
SAUERKRAUT RANCH DRESSING
RASPBERRY KRAUT VINAIGRETTE

What others are saying:

"Thank you for creating this sauerkraut recipes book, I have very much enjoyed making and eating some of these recipes. They are very straightforward and easy to follow.  And best of all, my teenagers even love them, which was a pleasant surprise."
Cloe Miller, Teacher and Mom

---------------------
"Wow, these are some beautiful and tasty recipes. I have been searching for a good sauerkraut recipes book for years that goes beyond the basics. I love the pics and use it in the kitchen straight from my Ipad, so I am glad it is in digital format."
Rachel Watts, Web Designer

BUY THE EBOOK NOW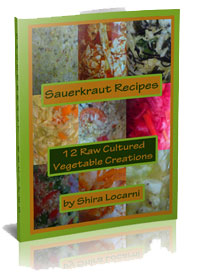 -For Only $5.95-
Available in ebook format, a downloadable Adobe PDF file!
Using either paypal or a major credit card
-OR-

For other formats for Kindle,
Apple iPad/iBooks, Nook, Sony Reader, Kobo, and most e-reading apps including Stanza, Aldiko, Adobe Digital Editions,  and others
-Only $2.99-
CLICK HERE!
(This version does not include photos)
Wishing you the BEST sauerkraut making adventures!