Chocolate Milk Recipe Using Superfoods and Raw Cacao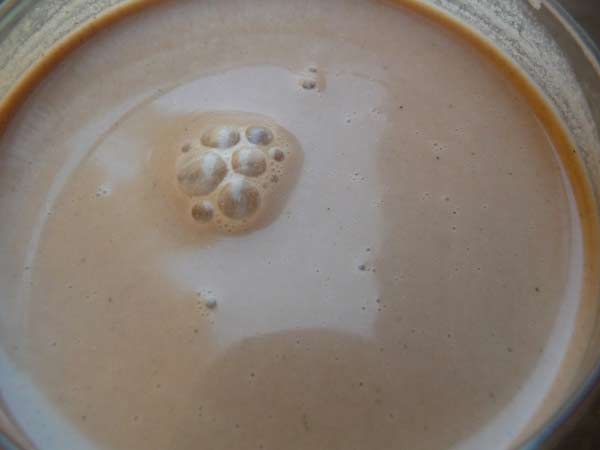 This is a superfood chocolate milk recipe merging the best of both worlds, a sweet creamy chocolately drink with highly revitalizing ingredients.

If you loved drinking a cold glass of chocolate milk as a child, this new and improved deluxe version might be just for you. Upgraded from the old time classic chocolate milk, this is a energizing beverage rather than just a low quality mix of cocoa, refined sugar and dairy milk.
Traditional chocolate milk, often criticized for contributing to childhood obesity, has actually been banned in some public school systems. (*)

Our homemade chocolate milk recipe, created using an herbal nut milk made with a base of cooled tonic tea, is an "almost raw" 100% vegan cacao recipe. It contains a few superfood favorites plus a delicious blend of herbs and spices helpful for delivering nutrient essentials.
It is an especially refreshing cold drink to enjoy on a hot summers day after a hike or workout session. Below we also share how to alter this recipe to make fudgsicles for a frozen chocolate treat that the whole family can enjoy.

How to Make Chocolate Milk Better
There are several things that can really make a raw vegan chocolate milk recipe extra nutritious and delicious.

1) Use raw cacao.
2) Make a tonic tea as the base liquid.
3) Create a thick milk like texture.
4) Blend in top superfoods.
5) Use a balanced ratio of natural sweeteners.
6) Blend in floral herbs and spices.
1) Using Raw Cacao
Nothing beats making a chocolate milk recipe from raw cacao beans or nibs instead of refined cocoa powder or chocolate syrup. Both cacao and cocoa originate from the cacao bean, but cocoa is basically a high heat roasted version of raw cacao.

Raw cacao beans, cacao nibs and powders are the product of 100% pure raw chocolate straight from the Theobroma cacao tree after it has been fermented. Raw cacao is known to contain greater amounts of health enhancing phytonutrients, antioxidants, bitter alkaloids and has a deep rich flavor.
Because cacao is a magnesium-rich food source, we often like to use a bit of calcium-rich carob powder with it in recipes to balance out the magnesium-calcium ratio.
2) Making a Tonic Tea as the Base Liquid
The herbal tea recipe we use in this raw chocolate milk is a blend of tonics, using astragalus and fo-ti, as well as jujube dates, star anise and a bit of pepper for spiciness. Depending on your own personal health goals, you may wish to substitute some of these herbs for more appropriate ones relevant to your present needs. This could include any number of Chinese or Ayurvedic rasayanas as well as different cleansing herbs.

Using cooled herbal tea as the base for nut milks, shakes and smoothies is a great way to consume teas as the other ingredients work synergistically to help activate the beneficial herbal components.
3) Creating a Thick Milk-like Texture
To create a thick rich consistency we used both hemp seeds, cashew, coconut oil and a small piece of cacao butter. These nuts, seeds and oils contain healthy fats that function well as energy burning fuel sources. Hemp seed also contains a greater amount of omega fatty acids compared to other seed and nut varieties.

4) Blending in Top Superfoods
Blended drinks are an excellent way to use any superfood powder, tea or extract.
Some of the ingredients used in this chocolate milk recipe include superfoods from our top superfood lists, such as fo-ti root, astragalus, bee pollen, mucuna and hemp seed. These foods provide your milk with substances essential for modulating the immune system and increasing the body's resistance to stress.
Mucuna has been used as an ingredient in frothy raw cacao drinks in the Amazon for over 2,000 years. It adds a nice calming balance to the theobromine or small amounts of caffeine present in cacao.

5) Balanced Ratio of Natural Sweeteners
This raw chocolate milk is thick and velvety smooth with just the right amount of sweetness to soften the bitter tasting chocolate alkaloids.

We generally like to avoid high glycemic foods and usually try to balance sweeteners like raw honey with other low or non-glycemic sugars. Two of our favorites being yacon root syrup and green leaf stevia powder.

6) Blending in Florals and Spices
Raw chocolate milk is especially flavorful when you accent the taste by adding in small amounts of floral herbs, like jasmine flowers, rose petals or lavender. Other herbs and spices like coriander, nutmeg, cinnamon, or cayenne additionally work to add taste sensation as well as digestive spiciness.

Raw Chocolate Milk Recipe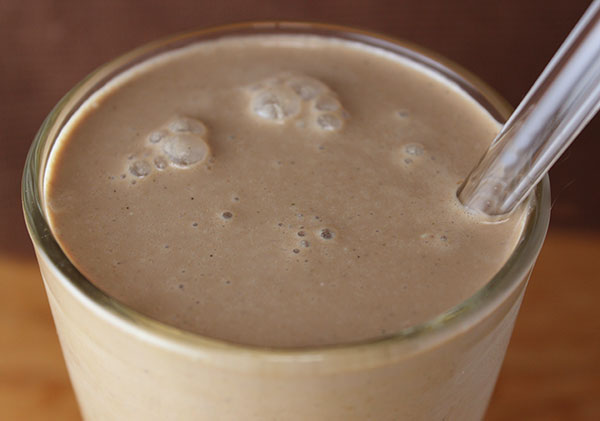 Herbal Tea Preparation
2T fo-ti root
2T astragalus powder or 3-4 slices

3 jujube dates
2 pieces star anise
1/2 a long pepper or 1/4t peppercorns

Decoct (simmer) 1 quart of pure water with the above ingredients for 20 minutes.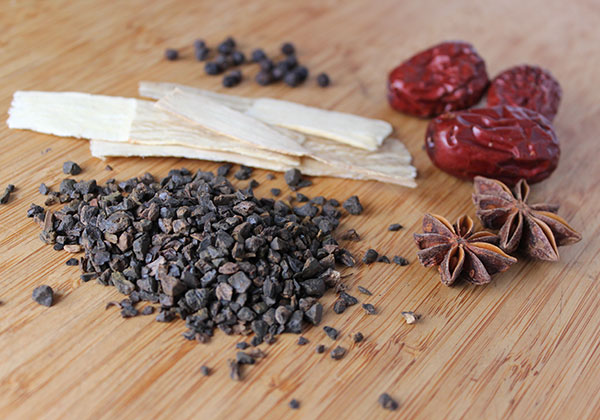 Ingredients:
Nut Milk

1 quart cooled herbal tea
1/2C hemp seed
1/4C cashew or macadamia nut
1/4t coriander seed

pinch of nutmeg
1T rose petals or jasmine blossoms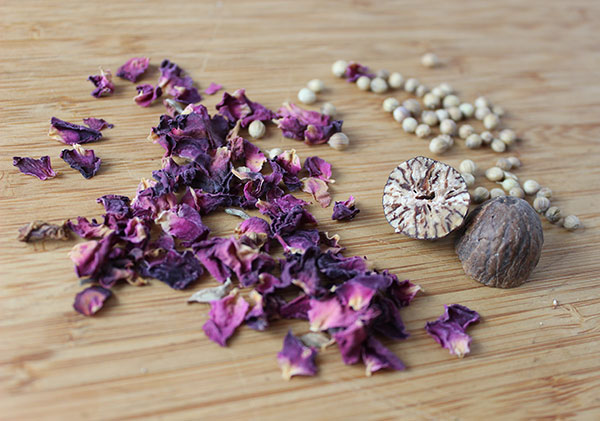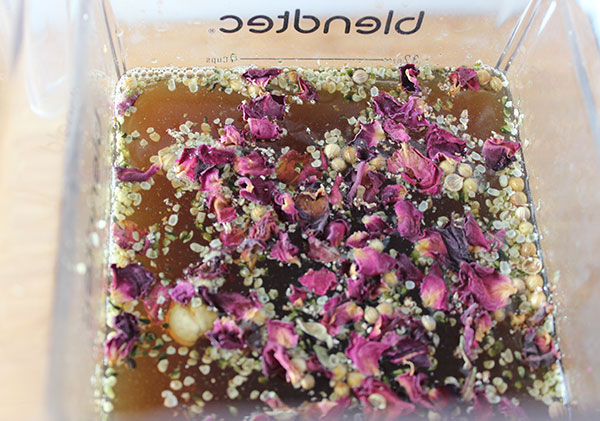 Other Ingredients
1T bee pollen
3T cacao powder
1T cacao nibs or 6 whole beans

1T carob powder
1t mucuna powdered extract
1T coconut oil
piece of cacao butter

2T yacon root syrup

1T raw honey

1/8 of a vanilla bean or 1/4t vanilla powder

1/8t stevia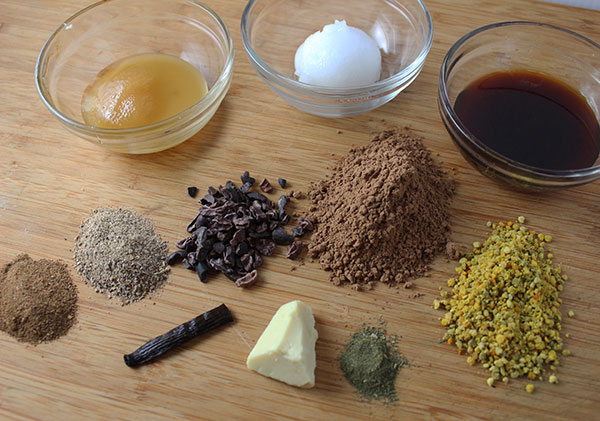 Directions:
Soak the cashews and hemp seeds in the strained and cooled quart of herbal tea for 30 minutes.

Add the tea and soaked nuts to a high speed blender mug.
Make a nut milk by blending in the hemp seeds and cashews and straining through a nut milk bag.
Add nut milk to the blender mug and blend in the rest of the superfood ingredients until smooth and creamy.
Serve chilled.

You can double this batch and keep extra in the fridge for when you need a cold, rejuvenating chocolatey mid-day snack.

Another idea, if your feeling inspired, is to add more hemp seeds, chocolate and coconut oil and make fudgsicles by freezing them in popsicle molds.
Affiliate Disclaimer: This section contains affiliate product links. If you make a purchase through one of our recommended links, we will receive a small commission at no additional cost to you. Thanks for the support!
Other Related Pages