Raw Chocolate Coconut Cream Pie Recipe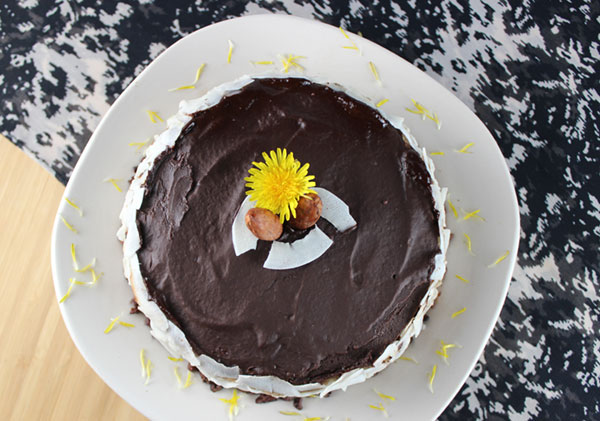 This raw chocolate coconut cream pie recipe is another version of our original coconut cream pie, but instead using dried coconut, chia and cashews to create the traditional "cream pie" consistency.
While in our original recipe we use fresh coconut meat scrapped from Thai or green coconuts, in this one we use dried coconut as an alternative. Fresh coconuts can be harder to find, depending on where you live, and are not as quick and convenient to use for some people.

We like to use raw dried pieces but you can also use shredded coconut as well.

This recipe actually came about when we didn't happen to have fresh coconut meat on hand and decided to experiment with the dried variety. We discovered a key technique is to soak the coconut before high-speed blending the filling ingredients and also use some soaked cashews and chia seeds to help produce a smooth texture.
Coconut oil is customarily used when making raw desserts, to provide added thickness, and in this case is very appropriate addition. As usual, we also thrown in a heaping tablespoon or two of a favorite superfood. In this case it's brain boosting lion's mane powder, but you can substitute most any other superfood powder that doesn't have a super strong taste. Maca, with its malty flavor, is another one we often incorporate as well as ashwagandha.

For the crust freshly ground cacao beans really add a nice rich robust cacao flavor, but ground nibs or raw powders can also be used.

You can use homemade coconut milk using pretty much the same method as making any nut milk recipe or you can use a quality commercial alternative.

One of the great things about this raw pie is that you can store it in the freezer for many weeks. If you pre-slice it into serving size pieces, it can be easily removed and thawed briefly before it's ready to eat.

Raw Coconut Cream Pie Recipe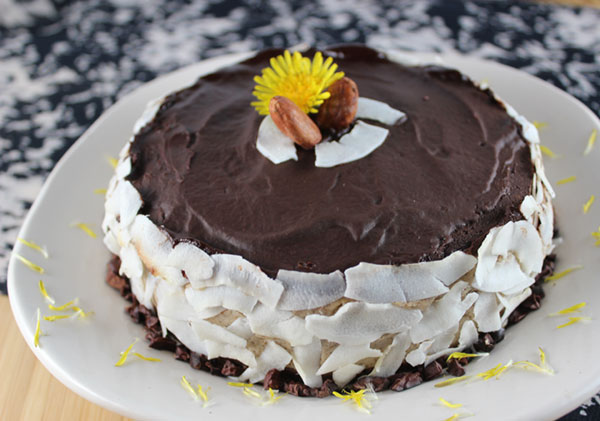 When we make this raw chocolate coconut cream pie we personally enjoy a smaller sized pie as a little seems to go a long way if your just making it for one or two people.
For this reason, we give two recipe versions. One is for a mini-size springform pan and the another is for the standard 9" pan. You can also use any type of pie dish, but a springform just gives a nice even look and sharper edge.

As a side topping we also soak and dehydrate raw coconut pieces to create an added crunchy texture. This is optional of course.

Ingredients
Dark Chocolate Crust:

Mini - 6 1/2" Springform Pan
Regular - 9" Springform Pan
3/4C walnuts
1/4C cacao beans
2T melted cacao butter
2T maple syrup
1/4t stevia
pinch of sea salt
1 1/2C walnuts
1/2C cacao beans
4T melted cacao butter
4T maple syrup
1/2t stevia
pinch of sea salt
Cream Pie Filling:
Mini - 6 1/2" Springform Pan
Regular - 9" Springform Pan
1C dried coconut pieces
1/2C cashews
3T chia seeds
1 1/4C coconut milk
1/4C lucuma powder
1T lions mane powder

3T raw honey
3T coconut oil
1/2 a scrapped vanilla bean
2C dried coconut pieces
1C cashews
6T chia seeds
2 1/2C coconut milk
1/2C lucuma powder
2T lions mane powder

6T raw honey
6T coconut oil
1 scrapped vanilla bean
Cacao Frosting:
Mini - 6 1/2" Springform Pan
Regular - 9" Springform Pan
1/2C cacao powder
3T melted cacao butter
2T maple syrup
1C cacao powder
6T melted cacao butter
4T maple syrup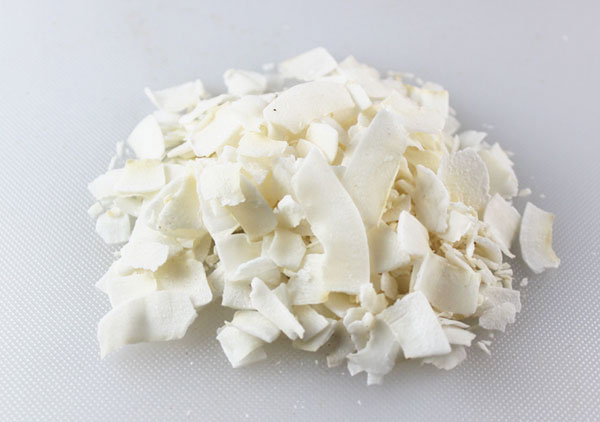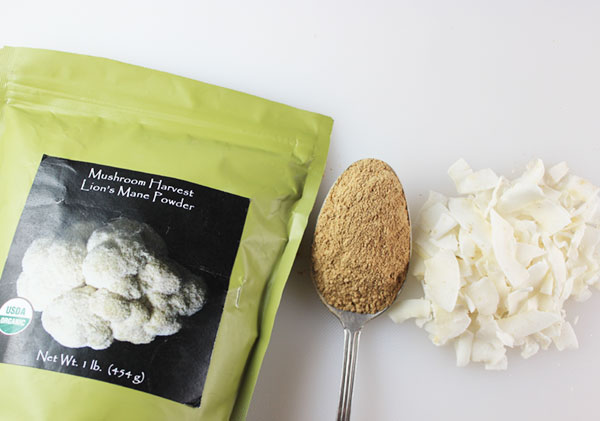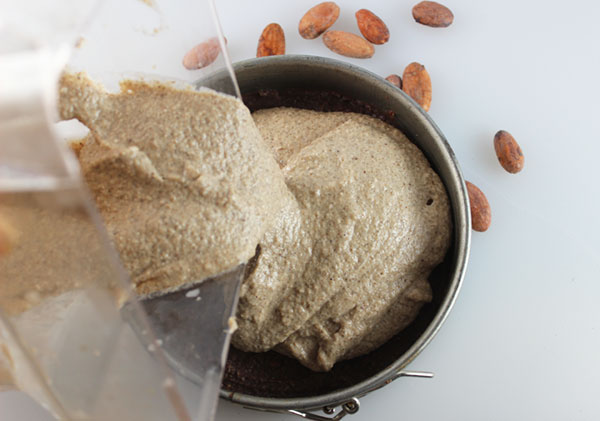 Directions
For the Crust:

To make the dark chocolate crust layer, grind fresh cacao beans in a high-speed blender and add to ground walnuts. We do both of these ingredients in a NutriBullet. Mix in melted cacao butter, maple syrup, stevia and a pinch of sea salt.
Press into a springform pan or pie dish and freeze for several hours.

For the Cream Pie:

Soak the dried raw coconut, chia seeds and cashews in 1 (2) cups of coconut milk for several hours.
In a high speed blender add the remaining coconut milk and coconut oil along with all other cream pie ingredients. Blend until smooth.
Pour over pie crust and even out with a spatula.
Place covered in the freezer for at least 6 hours or overnight.

For the Frosting and Decoration:

Mix together the frosting ingredients above and smooth over the top layer of your cream pie using a frosting spatula.
Remove the outer ring clamp on the springform pan and place on a serving dish to decorate.

Take raw dehydrated coconut pieces and place around the pie edging.
Adorn with wild flower petals, coconut pieces, cacao beans and/or nibs.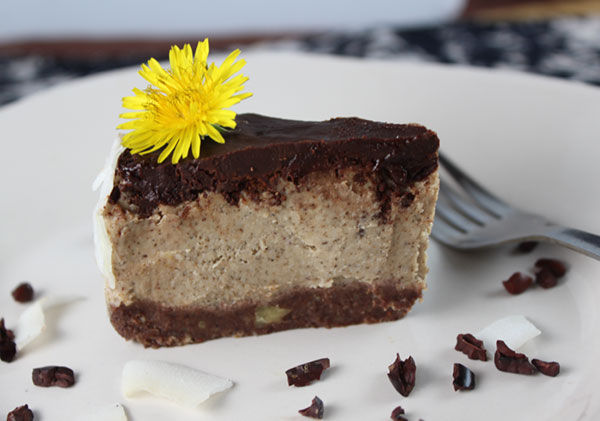 This raw chocolate cream pie can be stored in the fridge or freezer in an airtight container. If frozen, thaw for 1-2 hours before serving.
This pie recipe travels well and makes a great potluck dessert or served at holiday celebrations with friends.
Visit the page links below for more of our other cacao recipes like our raw chocolate cake, raw fudge, chocolate milk and raw chocolate bars.

Affiliate Disclaimer: This section contains affiliate product links. If you make a purchase through one of our recommended links, we will receive a small commission at no additional cost to you. Thanks for the support!
Other Related Pages