Elderberry Syrup Recipe, Herbal Ally for Immune Support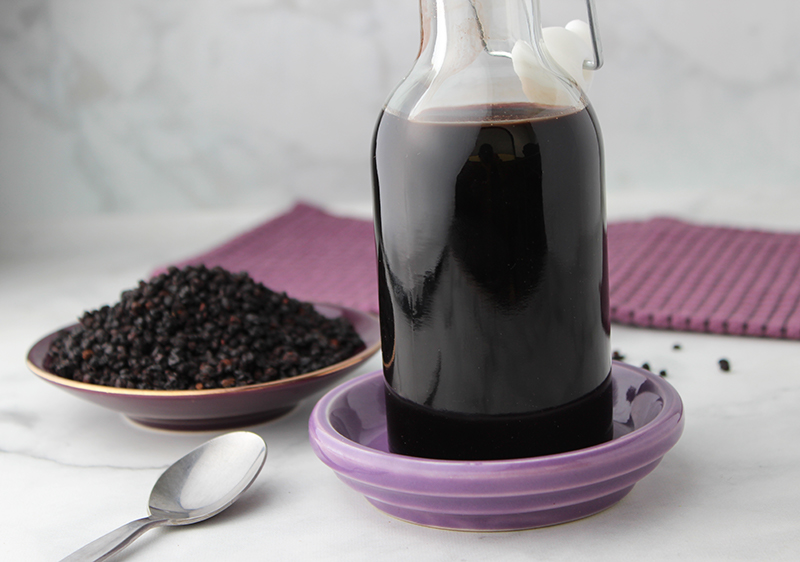 Elderberry syrup is a classic herbal folk preparation made from the black elderberry (Sambucus nigra), other herbs, spices, and usually honey. The primary ingredient, however, is the elderberry fruit which is simmered down from fresh or dried berries to produce a thick dark purple-brown liquid.

The berries are typically cooked before use and sweetened because they are not only quite tart but also contain mildly toxic substances that need to be deactivated via heating methods.

Elderberries, as well as flower blossoms, have likewise been utilized historically to make preserves, elderberry wine, cordials, tinctures, and tea infusions.

But when it comes to colds, influenza, and upper respiratory tract issues, it is the "elderberry syrup" that has become a popular plant-based mixture to have in your herbal arsenal, for adults as well as children over age 1.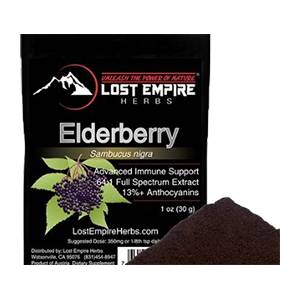 Lost Empire Herbs, Elderberry Extract
While it is a commonly used medicinal ally in the winter months during cold and flu season, it's good to have around throughout the year whenever you feel your immune system is compromised. There are many herbal product brands these days selling versions of elderberry syrup. But, those of you who enjoy DIY projects, this simple recipe might be one for you!

Rest assured; you don't have to wait until elderberry season in the fall to utilize the fresh berries. In our recipe, we use dried elderberries which are readily available year-round from online sources. As always, we recommend purchasing all your herbs and superfoods from a high-quality organic supplier.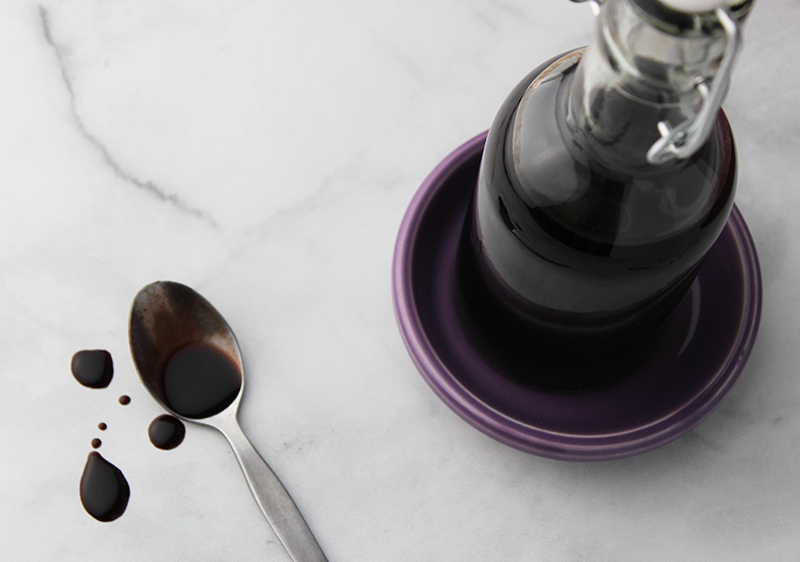 Elderberry Syrup Recipe

Classic syrup formulas typically include ginger, cloves, cinnamon, and raw honey. In this one, we use cardamom seeds instead of cloves and also add licorice root for its soothing influence on respiratory functions.

The honey and alcohol content help to increase its shelf life by acting as a natural preservative.

Keep in mind that elderberries and their purple pigmentation can act as a natural dye. It is, therefore, best (we have found from personal experience) to wear dark-colored clothing just in case of splashes or spills when making this elderberry syrup recipe.

Ingredients:

1C dried elderberries (1C equals about 100 grams)
4C filtered water
3T minced ginger root or 3t dried powder
2 Ceylon cinnamon sticks
2t cardamom seeds
3-inch licorice root piece (or 3t licorice root pieces)
1 ½C raw honey
3T vodka (optional)
Directions:

In a pot, soak the berries in 4 cups of cold filtered water for one hour.

Place on a stove-top and bring the water to a boil without a lid.
Turn heat to simmer, add other herbal ingredients and cook uncovered in a pot, stirring occasionally for 40 minutes or until there is about 2 cups of liquid left.

Remove from heat and let sit in the pot with a lid for one hour.
Strain your herbs over a large bowl using a mesh strainer, fine cheesecloth, or nut milk bag. Squeeze out as much liquid as you can and discard the herbal material.
Mix in the raw honey and vodka.
Pour elderberry syrup into sterilized glass bottles. You might want to label them with ingredients and date prepared.
It is best to store your syrup in the refrigerator, especially if you don't use alcohol. This is to discourage the potential of mold contamination when kept at room temperature.

Elderberry Syrup Benefits

What is Elderberry Syrup Used For?

Elderberry, and it's antioxidant and flavonoid rich compounds, have long been claimed to provide an immune-supporting influence to the body's first line of defense.

The elderberry syrup made from fresh or dried berries has a historically well-known reputation amongst herbalists as an antiviral aid for influenza, colds, and upper respiratory tract issues. Taken by the spoonful, the pleasant tasting syrup has been a valuable medicinal in many folk traditions in Europe and other areas conducive to black elderberry's natural habitat.

As reported by The American Botanical Council, a leading nonprofit education organization promoting the responsible use of herbal medicine, elderberry's primary uses are for common symptoms associated with influenza, colds, and feverish conditions.

Likewise, elderberries contain active constituents that are believed to encourage natural immune responses. These components include flavonoids, like quercetin, kaempferol, and rutin, as well as various anthocyanins that the berries are especially high in as indicated by their dark purple pigmentation. The berries are also known to contain good amounts of vitamin C content and some carotenoids.

Black elderberry is also used as a base in commercial supplements such as lozenges, tinctures, gummies, and encapsulated extracts, but the syrup is by far the most common product utilized.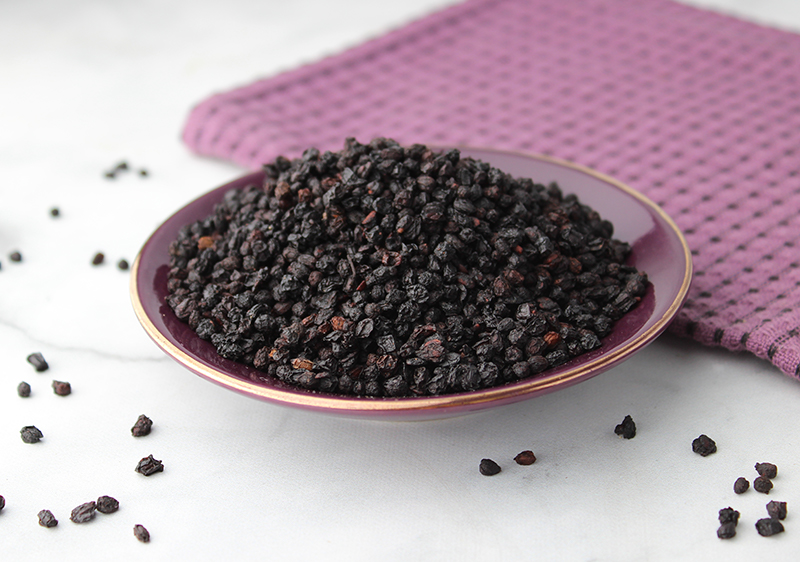 Research on Elderberry Syrup and Extracts

One of the factors about the syrups made from elderberries is that there is a wide range of ingredients that may be used in both commercial as well as homemade products. So, when it comes to research testing, straight black elderberry extracts might provide more insight into some of its potentially beneficial qualities.

According to our findings, there are several main studies that most experts point to regarding elderberry and its uses for influenza viruses.

One is a 2004 published study testing a syrup containing 38% elderberry standardized extract on otherwise healthy non-high-risk adult patients with flu-like symptoms. One tablespoon (15ml) of elderberry syrup was given four times a day for five days. The group receiving the syrup recovered 4 days faster than the group receiving the placebo.

The next study is a 2009 report suggesting that flavonoids in elderberry can bind to H1N1 virions, a subtype of Influenza A virus, and "block the ability of the viruses to infect host cells."

Another 2016 study indicated that elderberry extract supplementation could reduce cold duration and symptoms in airline passengers traveling to an overseas destination.

In more recent 2019 research, it was proposed that black elderberry supplementation might provide a viable option for upper respiratory symptoms associated with the common cold and flu.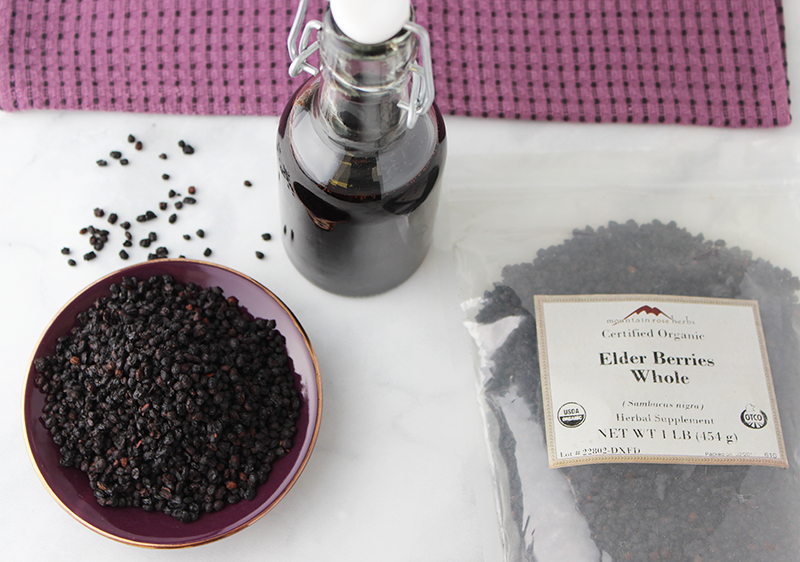 This page is sponsored by Mountain Rose Herbs. However, opinions expressed here are completely our own.
How to Use

Elderberry syrup is traditionally taken by the spoonful as a medicinal syrup and is best not used on a regular basis to be most effective.
It can also be a nice ingredient to add to many types of beverages as it also simultaneously helps to sweeten them. The syrup can be stirred into a cup of hot tea, tonic elixirs as well as iced tea, lemonade, mocktails or even homemade kombucha and kefir recipes.

Remember that elderberry syrup, when taking it for immune support, is typically consumed several times a day to provide the highest effectiveness.

Dose amounts can vary depending on syrup concentration. For recipes like this one, standard dose advised is typically ½-1 teaspoon for kids and ½-1 tablespoon for adults, 1-3 times a day. 

Keep in mind, there are many high-quality organic elderberry products available for online purchase, if you don't happen to prefer making your own homemade elderberry syrup or wish to use straight elderberry extracts.

Precautions:

Babies or toddlers under age 1 should not consume homemade elderberry syrup that contains raw honey. Diuretic actions of elderberry may interfere with some drugs. Consult your health care provider before using elderberry syrup supplementation if pregnant, nursing, if you have a medical condition, or if you are taking any prescribed or over-the-counter medications.


Affiliate Disclaimer: This section contains affiliate product links. If you make a purchase through one of our recommended links, we will receive a small commission at no additional cost to you. Thanks for the support!
Our YouTube Video
Other Related Pages