Trendy Cauliflower Recipes
Trendy Cauliflower Recipes, Unusual Ways to Use Cauliflower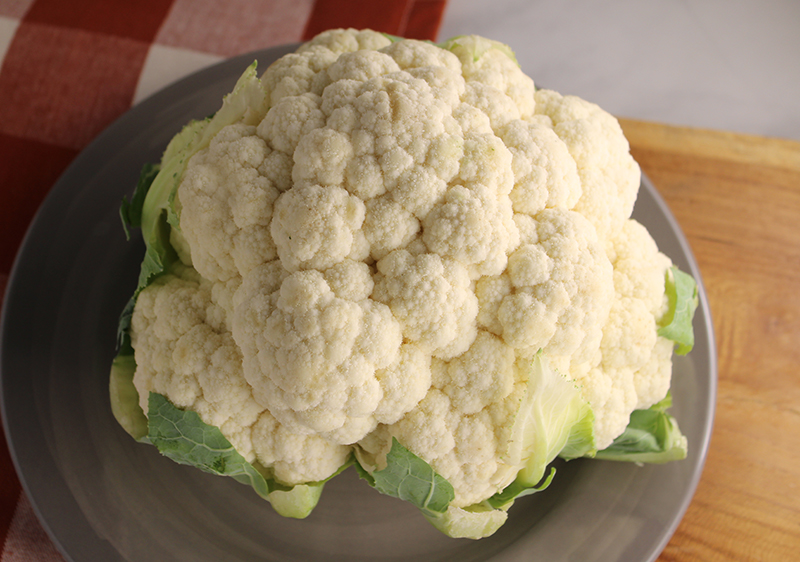 With plant-powered foods on the rise in the last decade, cauliflower's taste and texture have been used to transform some classic dishes into low-carb alternatives that are just as tasty.

Today, many creative recipes focus on this vegetable as the star of the show. That's because the cluster of florets that make up a cauliflower head are quite versatile lending themselves well to many appetizers or even as the main course.
As a replacement for high-carb foods cauliflower hits the mark because of its milder taste and ability to take on flavor via any sauces and seasonings you put on it.

Whether you're on a vegan, gluten-free, keto diet or just trying to cut down on your carbohydrate intake, cauliflower may be a simple vegetable to experiment with.
Here are the top unusual yet creative ways to use this common cruciferous variety. And, spoiler alert... chickpea flour complements cauliflower in 3 of these recipes.

Top 6 Trendy Cauliflower Recipes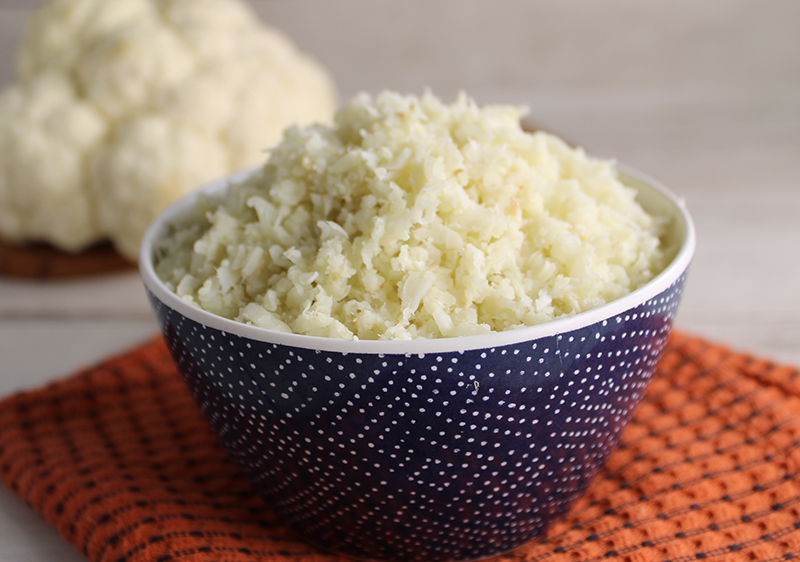 1) Cauliflower Rice
Cauliflower rice first became well-known many years ago, originally called cauliflower "couscous" because it resembles couscous more than rice grains.
It has become so popular that some brands even sell pre-made cauliflower rice that's ready to go.
However, most home cooks find that it's super easy to make homemade style.
There are two basic ways to make cauliflower rice. One is using a box grater. Two is using a food processor with either the S-blade or grating blade attachment.
It all depends on which is more convenient for you and the quantity you are making. The essential idea is that you want to break up the cauliflower into rice-size pieces.
To develop a firm rice-like texture, you must press out as much liquid as you can after the ricing process. There is usually quite a lot and we have found it is sometimes better if you do this step in two batches.
We use a fine mesh bag (otherwise known as a nut milk bag) for this, but you can likewise use fine cheesecloth or a thin cotton towel instead.
How to Make Cauliflower Rice

INGREDIENTS:
1 large head of cauliflower
1-2T olive oil
sea salt or pink salt (to taste)
DIRECTIONS:
Break up your cauliflower crowns and some stems into large-size florets.
Box grate or food process until a rice-like consistency.
Add oil to a hot pan or skillet and saute on medium heat for 4 minutes.
Turn heat to low and place a lid on top for another 4-5 minutes.
After it has cooled, place riced cauliflower into a nut milk bag and squeeze out excess liquid.
Add sea salt and serve.
Serve as a side dish with a protein or as a main course. You can use it to make a cold salad like tabbouleh as a couscous replacement. Cauliflower rice will last for about 4-5 days in the fridge in an airtight container and it also freezes well.
This is a great way to have it on hand whenever you need it or for making some of the following trendy cauliflower recipes.

2) Cauliflower Pizza Crust
Cauliflower pizza crusts are definitely all the rage these days as the cauli"power" trend continues to thrive on. There are tons of commercial varieties available, fresh or frozen.
The problem is that they are super expensive for just one small-size crust and there are currently no organic options. Why not make your own for less money with higher-quality ingredients?
Most homemade versions include lots of cheese in the crust as a binder. But we came up with a cheese-less crust using binders such as chickpea flour, arrowroot and psyllium to get just the right texture.
When this dough is pressed out and baked for 20 minutes, it develops a thick sturdy crust that doesn't fall apart and holds toppings very well. Moreover, the chickpea flour and cauliflower combo provides the perfect tasty crust-worthy flavor!
You can use one egg or make a "flax egg" for a totally vegan option, using 1T flax meal to 3T water.
Cauliflower Pizza Crust Recipe

INGREDIENTS:
2C cauliflower rice

1C chickpea flour
2t arrowroot powder

1/2t psyllium husk powder
1/4t baking powder
1t oregano
1/4t pressed garlic
1/2t sea salt or pink salt
1T coconut oil

1 egg (or flax egg)
DIRECTIONS:
Make 2 cups cauliflower rice following the previous recipe above.
Add rice to a bowl and add flour, arrowroot, psyllium, baking powder, oregano, garlic and salt and mix well.
Add beaten egg (or flax egg) with slightly melted coconut oil, and incorporate this into the dry mix to form a dough-like consistency.
Let the dough sit for 10 minutes in the bowl.
Press the dough onto a parchment paper-lined pan. You can make it as thick or thin as you like.
Bake at 400°F (204 °C) for 20 minutes. Flip the crust halfway through baking time.
Save this crust for later or use immediately, placing desired toppings and bake for another 20 minutes.

This cauliflower pizza crust recipe makes about a 9-inch pizza (1/4 of an inch thick) which is about the serving size for one or two people. You can double this batch and make an extra crust which can be frozen for later use.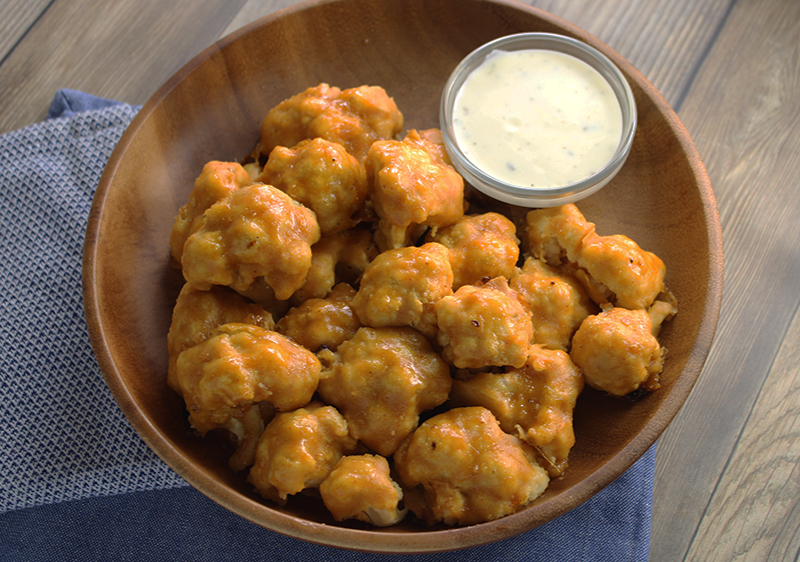 3) Buffalo Cauliflower
One of the trendy cauliflower recipes in the last several years is buffalo cauliflower. They are obviously a take on the infamous American-inspired side-dish "buffalo wings", which originated in Buffalo, New York.
Instead of chicken wings, however, cauliflower is the main event that's battered and then coated in the same spicy buffalo sauce. It's often found as a vegan option on restaurant appetizer menus.
While they are typically deep fried, this is a baked version but you can also use an air fryer.
How to Make Buffalo Cauliflower
INGREDIENTS:
cauliflower (one med head)
Batter Mix:
1/2C chickpea flour
2t arrowroot powder
1T melted coconut oil
1t paprika
1/4t garlic powder
1/8t onion powder
1/2t sea salt
water
Buffalo Sauce:
1/4C hot sauce
1T olive oil
1T apple cider vinegar
1t Worcestershire sauce
2T honey
1/2t paprika
1/4 garlic powder
1/4t sea salt
DIRECTIONS:
Break up cauliflower into florets.
Make batter mix adding enough water so it's not too thick but still coats cauliflower.

Dunk the florets in the batter mix.
Place on a baking dish lined with parchment paper.
Bake in an oven on 450˚F (230˚C) for 20 minutes or under cauliflower is slightly tender but not soft. Turn halfway through baking time.
Make the buffalo sauce.

Remove from oven and brush on buffalo sauce and bake for another 10 minutes.
Buffalo cauliflower makes a great appetizer and is traditionally served with celery sticks and a ranch-style or blue cheese dressing.

4) Cauliflower Mashed Potatoes
Looking for a tasty alternative to traditional mashed potatoes? Cauliflower is one of those vegetables that when mashed has a surprisingly similar consistency. This concept, way back in the day, was originally made "raw style" combining cashew butter with raw food processed cauliflower.
Today, cooked versions have become very popular. This recipe is lower in carbs and a suitable option for keto diets or those just wanting a new way to use cauliflower.
There are a few secrets to getting the right texture. Most cauliflower mashed potato recipes call for a lot of cheese to achieve this goal. Our recipe, however, is dairy-free using other ingredients.
How to Make Cauliflower Mashed Potatoes
INGREDIENTS:
1 head of cauliflower
1T olive oil
1/4t sea salt or pink salt
1/8-1/4C nut milk (less for thicker consistency)
black pepper and chives for topping
DIRECTIONS:
Cut up cauliflower into florets and steam for 20 minutes, then allow to cool.
Place cauliflower in a cotton cloth or mesh "nut milk" bag and squeeze out excess water. This will create a better potato-like texture.
In a food processor, process cauliflower with all ingredients until smooth.
Serve hot with olive oil drizzle and garnish with fresh cracked black pepper and chopped chives. You can incorporate other spices like garlic, dill and saffron.
5) Cauliflower Tater Tots
Tater tots are a classic American side dish that many people enjoy. Usually made with potatoes, hence the "tater" reference, we make these using our cauliflower rice recipe mixed up with other favorites and spices. Then we dredge them in bread crumbs for a crispy air-fried tot experience.
How to Make Cauliflower Tater Tots
INGREDIENTS:
2C cauliflower rice (one large head)
2T chickpea flour
1t arrowroot
1T onion powder
1T melted coconut oil
1/4t sea salt
1T nutritional yeast
1/4C bread crumbs w/ pinch of turmeric and salt

DIRECTIONS:
Make cauliflower rice using the previous recipe.

Mix in the remaining ingredients.
Form this mixture into tater tot-like shapes.
Dredge these tots in breadcrumbs.
Air fry on a single layer at 400°F/204°C for 15 minutes or until golden brown. (They can also be baked in an oven at for 375°F/190°C for 20 minutes or fried in a pan.)
Serve hot with a tomato-based sauce.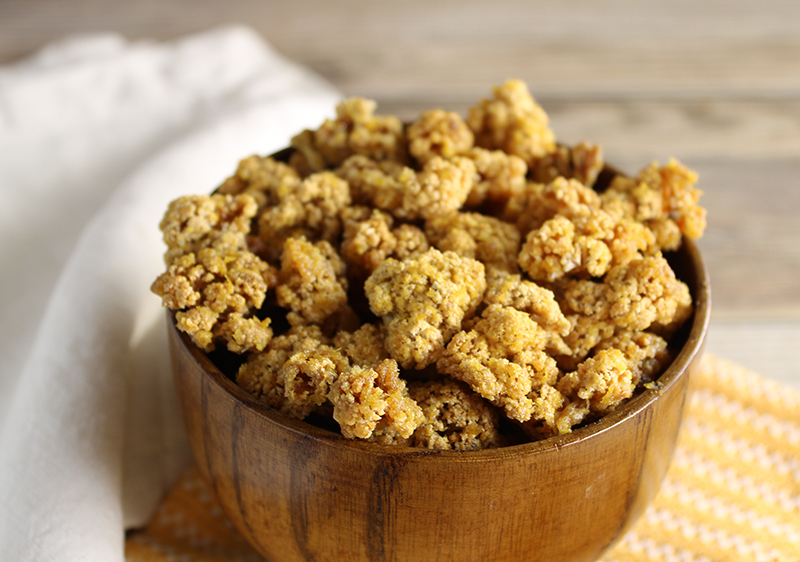 6) Cauliflower Popcorn

We remember cauliflower popcorn way back in the mid-2000s when the raw food diet was at its prime. It was made by cutting up cauliflower into popcorn-like pieces, tossing it with oil and seasonings, then dehydrating it overnight or about 12 hours.
Today, other methods are used like air frying or baking, but we still prefer this original technique using a dehydrator. This recipe is up there with our dehydrated chickpeas, both great snack substitutes when you get the craving.

Cheesy Cauliflower Popcorn Recipe

INGREDIENTS:
DIRECTIONS:
Break up cauliflower into popcorn pieces (crowns and stalks), bigger ones are fine as they will shrink a lot when dehydrated.
Add to a bowl with other ingredients and toss to incorporate.
Lay out on a dehydrator sheet with a screen underneath for support.
Dehydrate overnight or about 12 hours.
Cauliflower popcorn can be stored in an airtight container in a pantry location. This is the simple version but you can also add other spices like cayenne, paprika, oregano or turmeric.
Precautions:

Cauliflower consumption is well-tolerated by most people. However, it's always good to double check with your healthcare professional before making dietary changes if you are pregnant, nursing, taking medications or have a serious medical condition.
Our YouTube Video
Other Related Pages