Ashwagandha Milk Recipe, Best Beverage for a Good Night's Sleep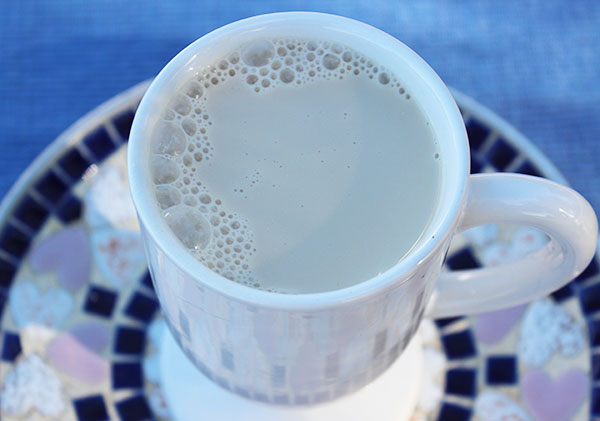 This ashwagandha milk recipe is one of our favorite herbal combinations that provides both a satisfying warm evening drink as well as a grounding nervine tonic.

In Ayurvedic herbal tradition, ashwagandha powder is therapeutically added to heated milk and honey and sipped as a sleep inducing beverage. Consumed a few hours before bedtime, it can replenish the nervous system, settle the mind and promote deep rest.

Achieving good quality sleep on a regular basis is important for overall health over the course of our lifetime. It is therefore beneficial to practice good nightly bedtime routines that encourage better sleep and a mug full of warm herbal infused milk might become a part of a ritual winding-down process.
In this recipe we also incorporate a few other herbs, along with ashwagandha, that are very effective for relaxing the body, pacifying the thoughts and soothing muscle tension.

Health Benefits of Ashwagandha
Ashwagandha root powders and extracts have been examined for their ability to heighten resilience to stress and improve the body's defense against disease via active antioxidant and anti-inflammatory compounds known as withanolides.
Ashwagandha root is not considered a sedative, but is rather a restoring rasayana herb that addresses a number of health issues such as adrenal exhaustion, hormonal imbalance and debilitating weakness.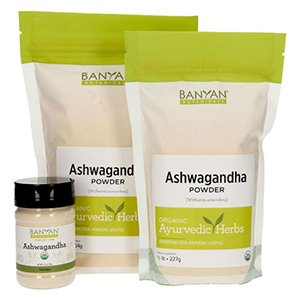 Banyan Botanicals, Organic Ashwagandha Powder
It can be a rejuvenating yet calming nerve tonic and is a frequent ingredient utilized in many energy building preparations to promote vigor, vitality and, according to Ayurvedic scriptures, increase one's lifespan.

Rasayana herbs, like ashwagandha, nourish the whole body by strengthening the primordial tissue. This ashwagandha milk recipe is therefore one of our personal favorites in the colder seasons and "building" time of year.
Ashwagandha also has the reputation for being a potent sexual tonic helpful for increasing libido or improving sex drive. According to herbalist Dr. Michael Tierra, author of Planetary Herbology, "It is easily the most potent tonic aphrodisiacs in the entire botanical kingdom." (Source)
The root is typically ground and used as a fine powder added to drinks, teas or foods. It blends very well into milk, whether from dairy cows (preferably pasture-raised) or from vegan plant-based sources, providing a thick rich quality.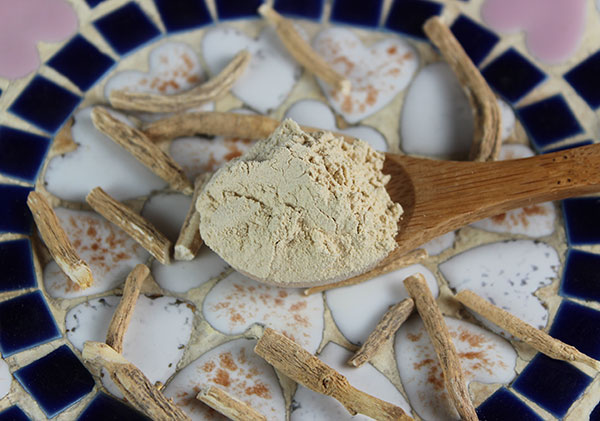 Using Herbal Infused Almond Milk
While most Indian recipes use cow's milk, in this ashwagandha milk recipe variation we use one of our favorite nut milks, almond milk. When you make it from scratch, as we instruct in the directions below, this gives you the opportunity to infuse other herbs into the milk.

We like to use almonds in particular because they not only provide a creamy delicious unctuous milk when blended and squeezed through a nut milk bag, but they also have a relatively high amount of sleep-inducing mineral content.
Another beloved superfood ingredient that goes well with ashwagandha is mucuna. Mucuna pruriens, as a nervine tonic,helps to calm and relax the nervous system and is ideal for encouraging a good night's sleep.
According to Nutrition Data 1 cup of almonds contain 54% the Daily Value for magnesium, 25% for calcium, both of which work in tandem to deliver calming effects on nerve functions and improve sleep cycles.
Almonds are also a good source of the very potent fat-soluble antioxidant vitamin E (alpha tocopherol), with 1 cup referenced at 125% the Daily Value based on a 2000 calorie diet. (*)
Ashwagandha Milk Recipe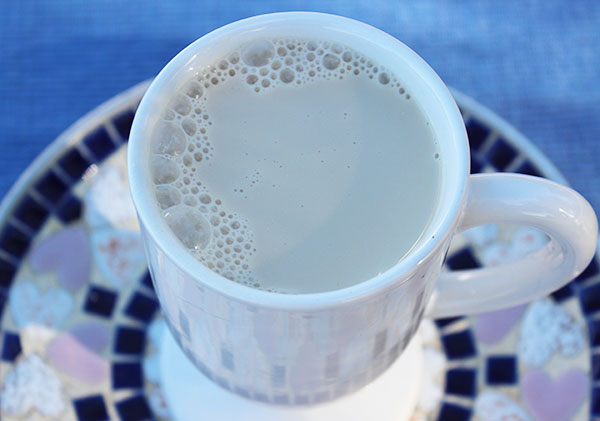 There are a few basic steps to preparing this recipe. One is creating your herbal tea infusion and the next is straining this mix and making your almond milk using this as the base liquid.
Once your nut milk is made, you can blend in your ashwagandha powder and other spices: cardamom, ginger and cinnamon. These herbs will help to activate ashwagandha's calming effects on the nerves as well as stimulate the sedating-like effects of chamomile, skullcap and lemon balm.
Ingredients:
2T chamomile flowers

2T skullcap
2t lemon balm
1t rose petals
1/2C almonds
one quart herbal tea
1T ashwagandha powder
1/4t mucuna powder

1/8t cardamom powder

1/8t cinnamon
1/8t ginger powder
1-2t raw honey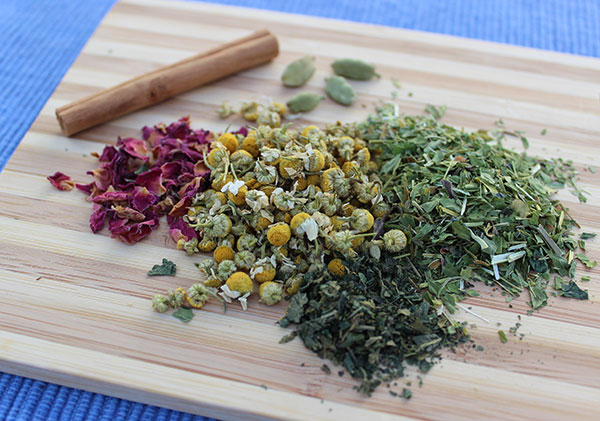 Directions:
Soak 1/4C of almonds in pure water overnight or for several hours.
Infuse the chamomile, skullcap, lemon balm and rose petals into a quart of hot water and allow to steep for 15-20 minutes. Strain and cool.
Strain and rinse the almonds and blend them, with skins on, in a high speed blender with the quart of herbal tea.
Blend until smooth and strain milk using a nut milk bag.
Blend the milk with ashwagandha, honey and spice ingredients.
Warm your ashwagandha milk to desired temperature in a glass or ceramic pot on low flame.
Serve in your favorite mug and enjoy about 3 hours before bed.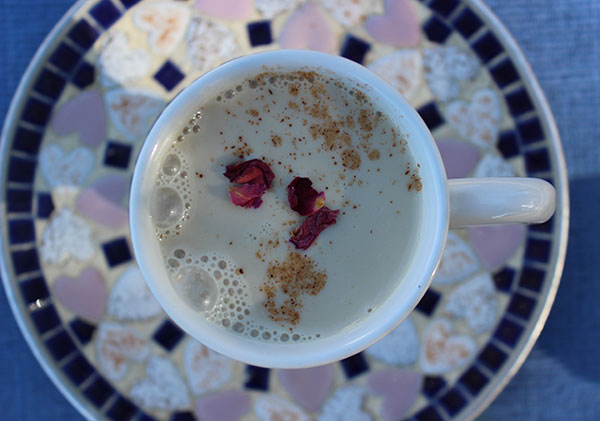 It is possible to also use the powder from ashwagandha capsules or freshly grind your own from the dried root.
You may also wish to add ghee or coconut oil (as a vegan substitute).

This ashwagandha milk recipe makes approximately 3-4 servings. This quart of milk is great to have on hand for a tasty evening beverage to consume over the next several nights.
It can be stored in the fridge and will last between 3-5 days when kept cold.

Affiliate Disclaimer: This section contains affiliate product links. If you make a purchase through one of our recommended links, we will receive a small commission at no additional cost to you. Thanks for the support!
Other Related Pages