Golden Milk Recipe, A Spiced Turmeric Tiger Nut Milk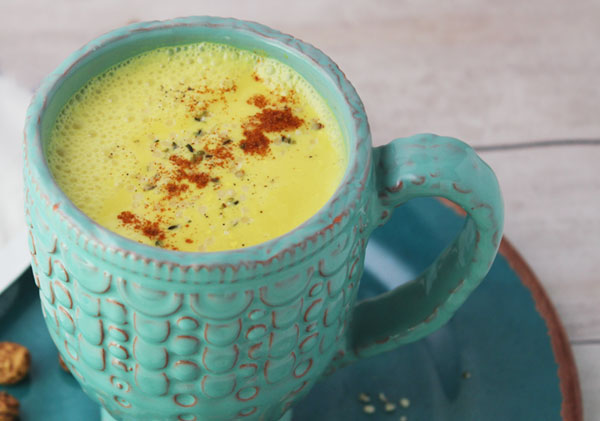 Golden milk, or also sometimes referred to as "turmeric tea" is a delicious warming beverage. Blending together the three main herbal spices commonly found in most kitchen spice racks: cinnamon, ginger and turmeric, this milk recipe is a naturally stimulating combo and perfect for those trying to reduce daily caffeine consumption.

We often enjoy a mug full in the mornings or as a tasty mid-day pick-me-up. It's creamy sweet and full of flavor plus all the benefits that turmeric can offer.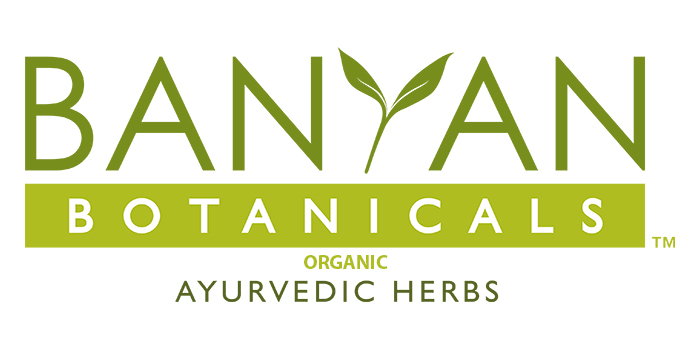 While you might not think of turmeric as a tea-type ingredient, its mildly pungent and bitter taste camouflages nicely with the sweetness of ceylon cinnamon and the citrusy undertones of ginger root. These spices also work to deliver the potent health-enhancing properties that turmeric is known for.

In this recipe we use a vegan milk base, although you can use a quality grass-fed milk instead if you prefer dairy products. You can basically make any type of homemade nut milk you want, but in this particular version we make use of the tiger nut variety.
Using Tiger Nut Milk

Tiger nuts make a great alternative to those with allergic sensitives to peanuts and other high-allergen nut varieties because they are not actually a nut but a tuber. They are also known to be well-tolerated by those with certain autoimmune conditions, like celiac disease, as they are a gluten-free food.

When making tiger nut milk, we prefer to use the prepackaged "flour", but you can also use whole peeled or unpeeled nuts. The flour is much more convenient for immediately blending as no pre-soaking is involved.
If you've ever used hemp seeds to make a nut milk you know they make a super creamy thick vegan milk because of their high omega fat content. And, they blend really well with tiger nuts we discovered!

Health Benefits of Golden Milk Spices

Turmeric - In ayurvedic terms, turmeric is a tri-doshic herb helpful for balancing all three body types. It is an immune boosting root with antioxidant-rich compounds, like curcumin (*), and offers usefulness as a anti-inflammatory, analgesic, antimicrobial and digestive aid. In Chinese herbalism, turmeric is considered a blood and liver tonic that promotes healthy skin and clear complexion. It is believed to move Chi (Qi) and can be particularly helpful at relieving pain in the joints. Visit our turmeric root page for more info or our page on its 2 major health benefits of turmeric.

Cinnamon - The characteristic flavor and fragrant smell of cinnamon comes from one of the main essential oils found in the bark called cinnamaldehyde. This is one of the primary active components responsible for many of its actions as a circulatory aid, anti-inflammatory and potent antibacterial compound. It is one of the top non-caffeinated herbal stimulants widely incorporated into many tea formulations for its energizing effects that also helps to activate other ingredient used with it. We use ceylon cinnamon but cassia varieties can also be used, but because they have a less sweet flavor you might need to add more sweetener. Visit our benefits of cinnamon page for more information about types and health properties.
Ginger - In Ayurveda, ginger with its heating nature is known to activate one's "digestive fire" or "Agni", the ability to increase digestive capacity after consuming a meal. Acting as a carminative, it also helps to prevent bloating, decrease general indigestion, relieve gripping in the gastrointestinal tract and reduce flatulence. Fresh ginger contains phenolic substances like the gingerols, while dried ginger powder is composed primarily of shogaols. Visit our ginger root page for much more about its benefits.
Golden Milk Recipe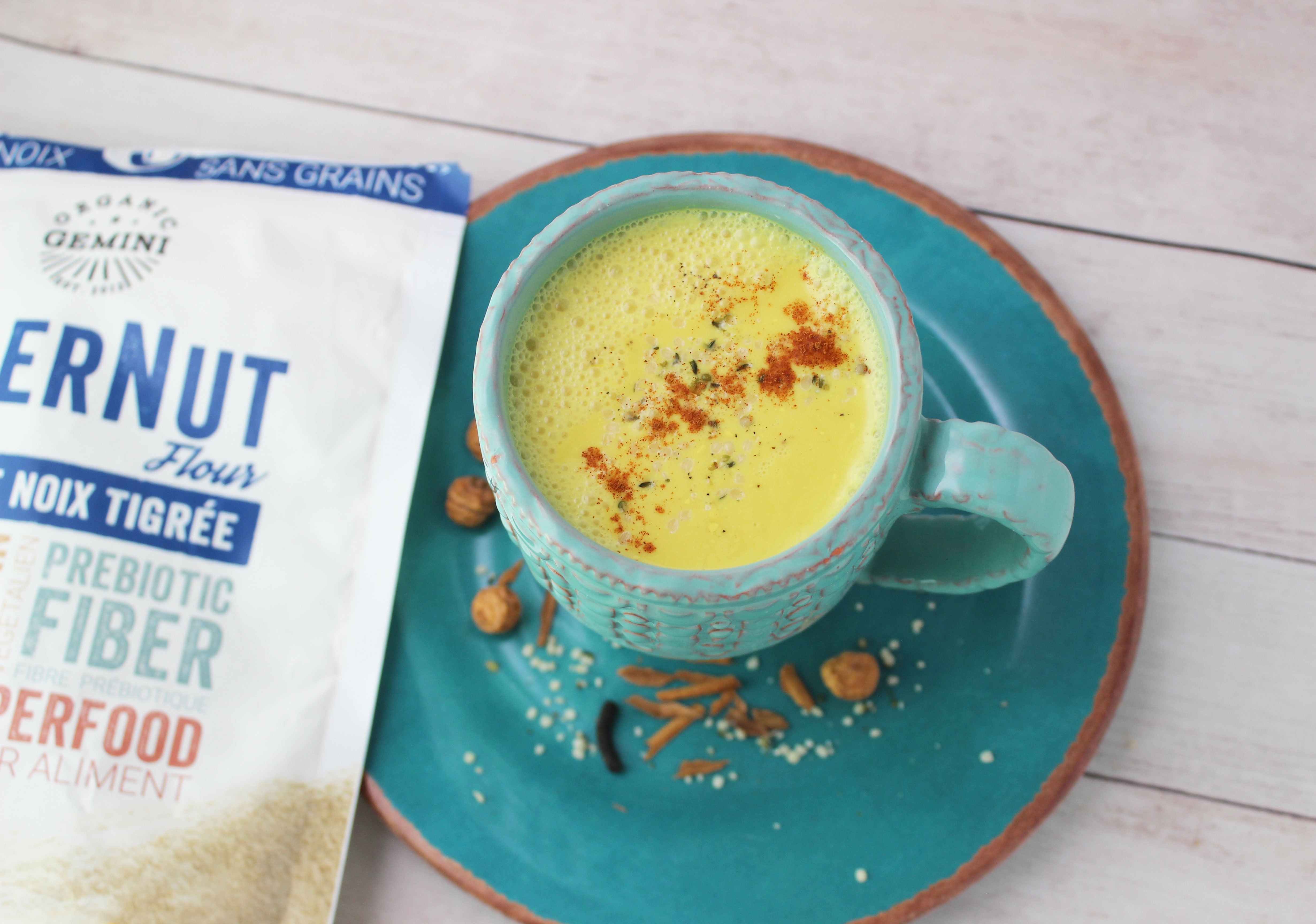 In this golden milk, you can of course use fresh turmeric and ginger root, the powders are just more convenient for blending purposes.
In addition to the main spice ingredients, we also add in a little long pepper for its activating qualities, plus a touch of coconut oil to cushion the heating properties and raw honey to round things out.
We have two ingredients lists, depending on how much you like to make at any giving time. A one cup recipe and a quart-size recipe.

Ingredients:
One Cup Recipe

1C milk (1C water - 2T tiger nut flour and 1T hemp seeds)
1/2t turmeric
1/4t cinnamon
1/8t ginger
pinch of long pepper powder
1t raw honey
1/4t coconut oil
One Quart Recipe

4C milk (4C water - 1/2C tiger nut flour and 1/4C hemp seeds)
2t turmeric
1t cinnamon
1/2t ginger
1/8t long pepper powder
4t raw honey
1t coconut oil
Directions:

Make your nut milk by blending together water, tiger nut flour and hemp seeds in a high-speed blender. You can strain this through a nut milk bag, but it is not absolutely necessary.
Blend all other ingredients into the nut milk base until smooth.
Warm to a desired temperature in a glass or ceramic pot, but do not boil. You can also drink at room temperature or serve chilled.
Pour into a mug and sprinkle with cinnamon and hemp seeds.
Golden milk, after blended, can be stored in the fridge and heated when ready to drink a mugful.

Likewise, all ingredients besides the milk can be pre-mixed as a paste and will last refrigerated in an airtight container for many months. This makes it more convenient and readily accessible when you get the golden milk craving.


Affiliate Disclaimer: This section contains affiliate product links. If you make a purchase through one of our recommended links, we will receive a small commission at no additional cost to you. Thanks for the support!
Other Related Pages