Benefits of Black Seed Oil, Is It a Miracle Curative?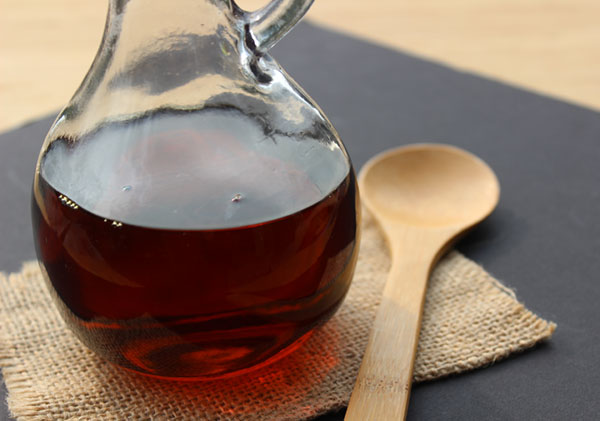 Black seed oil, also called black cumin seed oil, is the oil derived by pressing or cold extracting the seeds from the Nigella sativa species. This variety is not related to the Cuminum cyminum species known as cumin, nor the cumin-related species Bunium bulbocastanum, also referred to as "black cumin."
The herbaceous N. sativa seed plant is common to Mediterranean locations as well as southwestern Asian countries like India, Afghanistan and Pakistan. The ground seeds are a utilized spice in these regions, especially in Middle Eastern and Indian foods. They don't taste anything like "regular cumin" but have a pungent flavor that is usually combined with other spices.
Historical evidence of black seeds dates back to Ancient Egypt, often popularized as one of the found items in King Tut's tomb. Other references to the use of the seeds are noted by Hippocrates for digestive issues and in Bible text as the curative "black cumin" or "ketzah." The pressed oil is also reported to have been one of Cleopatra's beauty secrets for the hair and skin.
But what is black cumin seed oil and are its many claimed benefits based on truth or hype?
What is Black Seed Oil?
Black cumin seed oil is basically a nutritive as well as medicinal type of oil and definitely tastes like one. If you've ever used fresh thyme or oregano, it has a very similar bitter and slightly spicy quality. In fact, it also happens to have some of the same beneficial properties as the oil derived from both of these herbs.

Unlike other healthy dietary fats you might use more liberally like coconut oil, olive oil or hemp seed oil, the oil from black seed is used for supplemental purposes in small amounts. A one teaspoon portion of black cumin oil, or 3 soft gel caps, is the typical dose amount recommended daily for average effectiveness.

A relatively new oil product to hit the health food scene, it is extensively marketed and sold now by over 70 different company's since only a few years ago.  We were a little skeptical upon our first experience with it due to all the hype and "believe-it-or-not" health claims. But, as it turns out, after over six months of using it off and on for several weeks at a time, we can see that there is some valid evidence to support its proposed benefits.

Health Benefits of Black Seed Oil
1) May Help to Clear Sinuses and Improve Respiratory Issues
2) Is Black Cumin Seed Oil a Miracle Curative?
3) Black Seed Oil, Antioxidants and Anti-Inflammatory Agents
4) List of Other Researched Health Benefits
5) Fats in Black Seed Oil and Other Nutrients

May Help to Clear Sinuses and Improve Respiratory Issues

Black seed oil is in fact composed of several volatile oils such as carvacrol and thymol, also found in the herb oregano, as well as linalool, p-cymene and thymol, also found in the herb thyme. Thymol is a known disinfectant used in mouthwashes and is a natural monoterpenoid phenol identified for its aromatic scent and antiseptic nature.

As we mentioned, black seed oil consequently has some very similar properties to that of both of these herbs. One being that it has potent antimicrobial, antibacterial and antiviral qualities that can be great for sinus infections, allergies and clearing the respiratory tract.

When taking the oil in the morning before vigorous exercise, we personally noticed it helped to open up the lungs allowing for deeper respiration during running sessions. We also found it to be quite useful during California wildfire season when the outdoor air quality can become drastically impaired. For this purpose, it can help to ease breathing as well as boost immune response.

In a 2018 article, published in Integrative Medicine Research, we discovered that the fixed seed oil has actually been investigated for its therapeutic potential for the management of sinusitis. It was shown to be helpful for alleviating nasal congestion, inhibiting inflammation in the respiratory airways as well as lessening microbial infection in these regions.

In other unofficial reports, it has also been utilized for chronic dry coughs and its sinus clearing effects have likewise been reported by some individuals to have a positive impact on getting a better night's sleep.

Working as a natural antihistamine, documented research on the oil also provides some evidence that it may be good for those with allergies and/or asthmatic conditions. In one study, it was shown that symptoms such as nasal itching, congestion and sneezing attacks were reduced in patients suffering from allergic rhinitis after 2 weeks of N. sativa treatment.

In a 2017 double-blind, placebo-controlled study, it was additionally shown that the anti-asthmatic influence of black cumin oil supplementation improved "asthma control with a trend in pulmonary function improvement" and a "remarkable normalization of blood eosinophilia", or certain disease-fighting white blood cells. It was, however, concluded that more research on asthmatics is needed.

Is Black Cumin Seed Oil a Miracle Curative?
There have been hundreds of scientific studies conducted on black cumin seed and its derived oil, especially since the 1990's.

Because of all this accrued investigation and subsequent evidence on the benefits of the seed, the oil and the thymoquinone compound for many health conditions, it is often viewed as a type of "miracle curative" that, as we mentioned, has been highly marketed.

However, anyone with a little common sense about diet and lifestyle choices might agree that there is usually a bit more involved to achieving one's health goals than simply taking an herb or dietary supplement.
That being said, black cumin oil might indeed be one of those superfood fats to consider adding to the diet for intermittent periods, if appropriate.

The oil, according to our research, does in fact appear to contain a potent amount of antioxidant and anti-inflammatory constituents that may be of benefit to a wide range of health issues.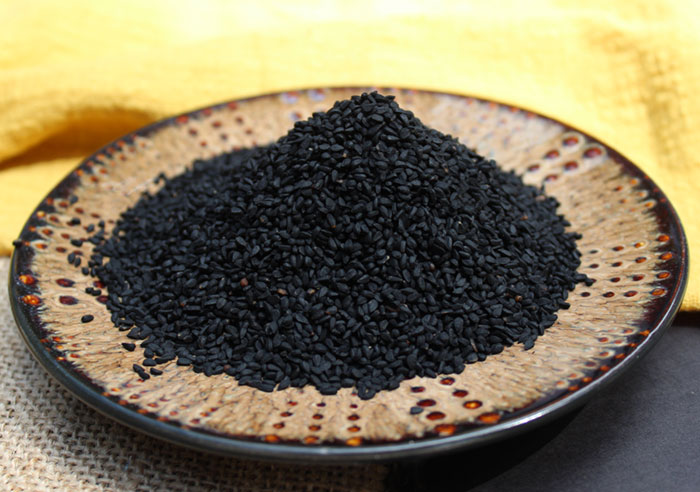 Black Seed Oil, Antioxidants and Anti-Inflammatory Agents
Black seed oil is not only potentially useful for inflammatory conditions of the sinuses and respiratory pathways, but is also viewed as a powerful anti-inflammatory agent for other bodily conditions.

The most studied components identified in black seed oil are thymoquinone, thymohydroquinone (also called nigellone) as well as the mentioned thymol.

Thymoquinone
Thymohydroquinone or Nigellone
Thymol

The compound thymoquinone, however, is found in the largest concentration and thus one of the most researched constituents.
All of these bioactive ingredients are known to possess strong antioxidative and anti-inflammatory properties.
Since inflammatory-related issues are often considered to be at the root of many diseases and health conditions, we can see how black seed oil can be perceived as a type of "cure-all" for many common ailments.
Again, this is not to say, however, that supplementation should go without remedying the initial cause of inflammation.
List of Other Researched Health Benefits
This is the "scientific" information we have gathered in our current findings on the oil and its potential benefits. It is important, however, to seek the advice of a qualified healthcare professional before using black seed oil supplementation for the following health conditions.
Digestive Aid and Stimulant - As a carminative it is known to be good for stomach upset, bloating, flatulence and heartburn; its bitter component may help to improve digestion. Its warming and pungent attributes can have an energizing effect on the bodily systems.

Immunity Enhancer and Antimicrobial - Black cumin seed oil can encourage improved immune response, potentially beneficial for autoimmune conditions (*), and can inhibit microbial infections. It is known to be effective against certain "superbugs" which have developed a resistance to antibiotic treatments, like MRSA infection (Methicillin-resistant Staphylococcus aureus). (*)

Gastrointestinal Health and Parasites - May offer a protective influence to gastrointestinal tract and inhibit parasitic infections. (*) It is shown to combat E. coli and infections caused by Schistosoma mansoni, an intestinal blood parasite. (*) As an antifungal, it is often a recommended dietary supplement for candida overgrowth.  

Analgesic and Anti-Neurodegenerative Actions - Its anti-inflammatory actions can also help to reduce associated pain and can have a protective effect on neurotoxicity as a AChE inhibitor, which may be beneficial for certain nervous system disorders. (*)

Antidiabetic Properties - Thymoquinone has been shown to have a potentially protective effect against the development of type 1 and type 2 diabetes. (*)

Heart Health and Blood Pressure - The seeds have been identified to help to balance cholesterol, lowering LDL and increasing HDL. (*) In other evidence the oil shows it may be helpful for reducing blood pressure in adults. (*) 

Protective Effects to Liver and Kidney - Shown to have positive effects against kidney diseases, according to 2018 research. (*) It was likewise recognized to have a protective influence on liver and renal tissues due to its antioxidant and anti-inflammatory actions. (*)

Fungal Skin Issues - Used topically for fungal infections and skin issues like psoriasis. (*) Thymol, one of the active ingredients in black seed oil, has been used in medications for the treatment of tinea or ringworm.

Fats in Black Seed Oil and Other Nutrients
According to the book, Molecular Targets and Therapeutic Uses of Spices: Modern Uses for Ancient Medicine, the main fatty acids in black seed oil include:

Linoleic Acid (Omega-6) - 55.6%
Oleic Acid - 23.4%
Palmitic Acid - 12.5%
Although is high in unsaturated fats, it is not a good source of Omega-3's or ALA (alpha-linolenic acid).

Total Saturated and Unsaturated Fats include:

Saturated Fatty acids:
palmitic acid
stearic acid
myristic acid

Unsaturated Fatty Acids:
arachdonic
eicosadienoic
linoleic
linolenic
oleic acid

The seeds, according to some nutrition fact labels, contain some vitamin C as well as some minerals like calcium, magnesium and iron.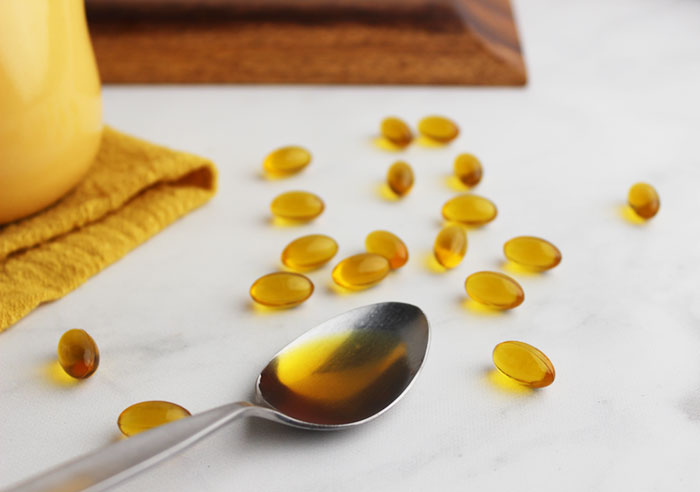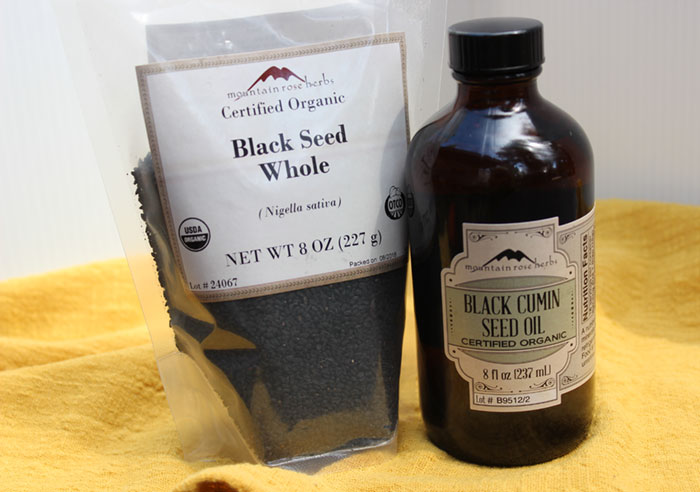 [This post is sponsored by Mountain Rose Herbs. However, all content and opinions are our own.]
Purchasing Black Seed Oil
It is best to purchase high quality pure organic oils that are cold-pressed and unrefined from the Nigella sativa species without solvents or diluted with other additives.

We like brands, like Mountain Rose Herbs, that use dark glass bottles to preserve volatile oil content as well as shield essential fatty acids from possible rancidity. They also have whole black seeds that can be ground into a powder for use in recipes and salad dressings.
How to Use
Black seed oil is used as a dietary supplement and, in our opinion, should not be used liberally on foods or as a cooking oil. The unsaturated omega fats are especially sensitive to high heat.

One to two teaspoons of oil is the typical dose recommended for daily consumption.
Because it has a stronger flavor some people prefer to take it in soft gel capsule form.
The herb-like flavor of the oil goes well in salad dressings blended with olive oil. It can also be poured directly onto foods in small amounts.
The oil can also be used topically as a skin or hair treatment.

We recommend refrigerating bottled oils after opening to preserve nutrients.
The dark black seeds are traditionally ground and added to food or mixed into honey as a medicinal preparation. They can be steeped as a tea or blended into drinks.

Precautions:

For some individuals, black seed oil may cause skin irritation or allergic rash when used topically or taken by mouth. It should be avoided when pregnant or nursing. Consult your health care professional before using black seed oil if you have a serious medicinal condition or are taking any medications.

Affiliate Disclaimer: This section contains affiliate product links. If you make a purchase through one of our recommended links, we will receive a small commission at no additional cost to you. Thanks for the support!
Our YouTube Video
Other Related Pages