Black Cumin Seed Salad Dressing And Black Garlic Vinaigrette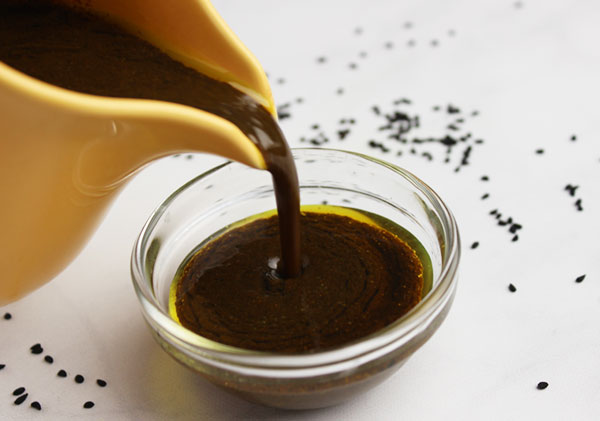 This is our black cumin seed salad dressing that also features another black superfood favorite, black garlic!
We've reviewed both of these on our black seed oil and black garlic pages, and recently decided to experiment with using them together in an apple cider vinaigrette.

The blended end result proved to be the perfect combo for a delicious tasting dressing that is full of health-enhancing potential.
Black seeds and their cold-pressed oil have an herbal thyme-like flavor due to the thymol compound, while the black garlic adds a subtly sweet and tangy element.
Organic quality black seed oil's, from 4 ounces to 5 gallons, are available at Mountain Rose Herbs. Plus, they also have whole black seeds that can be ground into a powder for use in recipes like this one.

If you don't happen to have black garlic in your kitchen pantry you can likewise use regular garlic, but we would reduced the portion as raw garlic has a much stronger taste.
To keep with the Indian and Middle Eastern "black seed" theme, we also use a little turmeric for its curcumin content and ginger to help spice things up. Ginger also simultaneously acts as a delivery vehicle for the dressing's valuable beneficial properties.
Black seed oil is commonly referred to as "black cumin seed oil", but it is not related to the spice known as cumin nor does it taste like it.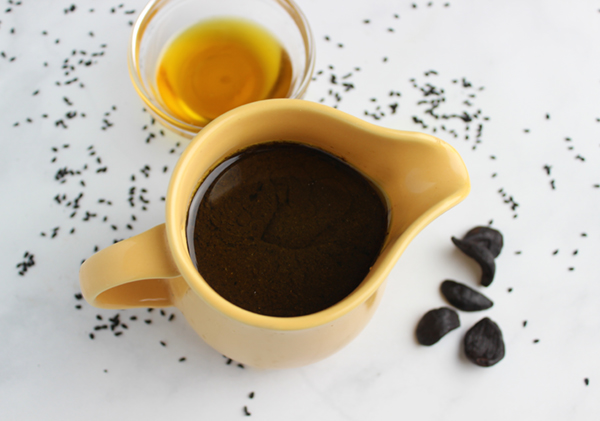 Historical evidence of black seeds dates back to Ancient Egypt, often popularized as one of the found items in King Tut's tomb. Other references to the use of the seeds are noted by Hippocrates for digestive issues and in Bible text as the curative "black cumin." The pressed oil is also reported to have been one of Cleopatra's beauty secrets for the hair and skin.

There have been hundreds of scientific studies conducted on black cumin seed and its derived oil, while black garlic is a newly discovered aged variety known for its high antioxidant constituents such as S-allyl-cysteine or SAC. (*)

Black Cumin Seed Salad Dressing Recipe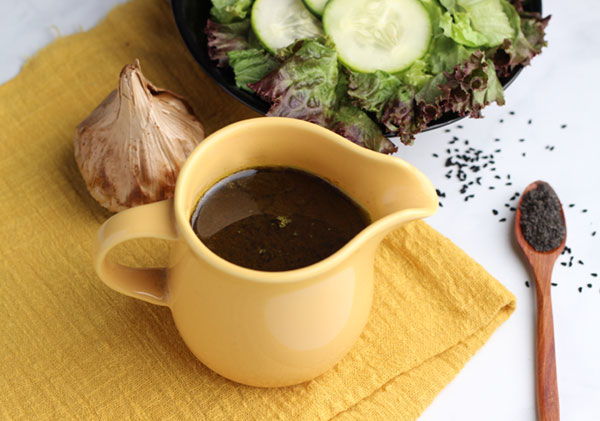 Once you have all the ingredients, this salad dressing it super easy to make.
Although we highly recommend using the black garlic variety, like we mentioned raw pressed garlic can be used in a 2t portion replacement for BG.
Ingredients:
1/4C black seed oil
1/4C olive oil

1/2C apple cider vinegar
1t ground black seeds
2T black garlic paste
1/4C raw honey 
2t ginger
2t turmeric
1/2t pink salt
1/4t black pepper
Directions:
Place all ingredients in a blender and blend until smooth OR simply mash the black garlic into a paste and whisk in the other ingredients.
Pour into a salad dressing container and store for later use or use immediately to dress a vegetable or green leafy salad.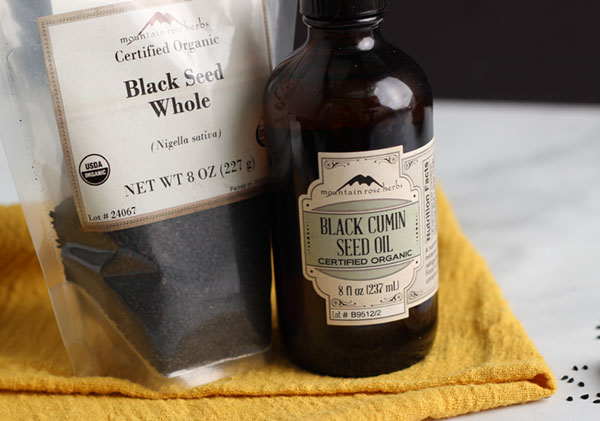 [This post is sponsored by Mountain Rose Herbs. However, all content and opinions are our own.]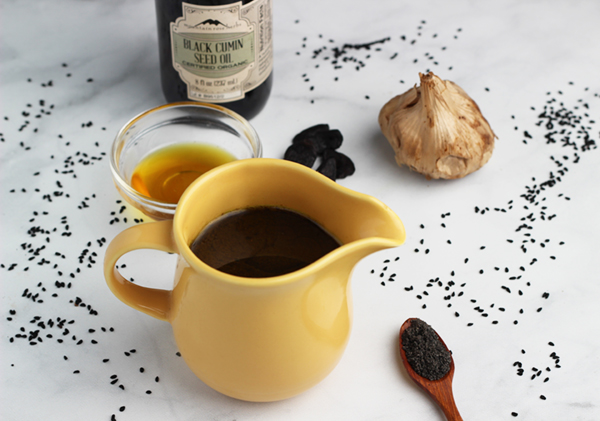 This black cumin seed salad dressing can be stored in the fridge or in a cool pantry location.
We list this as a raw vegan recipe, however, commercial black garlic is not technically a raw food per se. This is because it is aged in a heated environment that usually reaches temperatures above 118° F (48°C).
All quality black seed oil IS cold-pressed to preserve volatile omega fatty acid content.

Precautions:

Black cumin seed salad dressing should be avoided when pregnant or nursing as black seed oil can stimulate uterine contractions, especially when consumed in large amounts. Avoid using black garlic if you have allergies to garlic or members of the onion family
Affiliate Disclaimer: This section contains affiliate product links. If you make a purchase through one of our recommended links, we will receive a small commission at no additional cost to you. Thanks for the support!
Other Related Pages