Cinnamon Roll Recipe, A Raw Vegan Alternative to Baked Varieties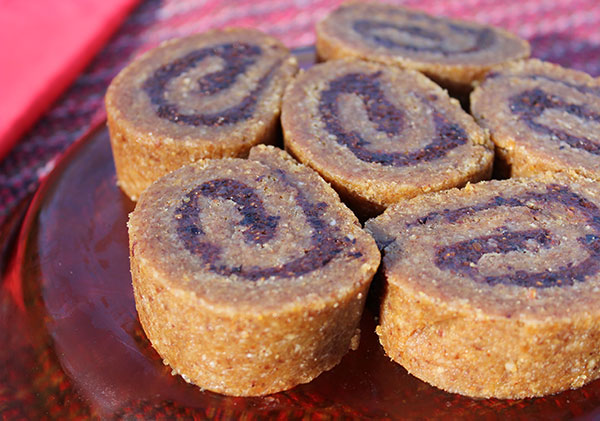 This raw cinnamon roll recipe meets all the requirements of a delicious cinnamon roll, but without the refined flours and baked ingredients of your average sticky bun. 

Instead, we use the perfect combination of nut and seed flours along with natural fruit-based sweeteners and, of course, freshly ground Ceylon cinnamon sticks.

While this is a raw no-bake recipe, it does require the use of a dehydrator to produce just the perfect consistency. Basically when you make a dough combining ground chia or flax with other nuts and dehydrate it, you get a texture similar to that of a pastry.

They make the perfect breakfast food and are packed with nutrition that most likely won't bog you down or make you feel lethargic.
Flax and chia seeds are much better options over flour-based baked goods as they are not only filling energizing foods, but also provide additional benefits that are soothing to the gastrointestinal tract, potentially acting as a mild laxative if needed.
These qualities are quite the opposite of gluten flour-based pastries that tend to stick to the colon walls and are hard to digest for most people.

A Convenient Premade Pastry
One of the best things about this cinnamon roll recipe is that it is designed to be prepared ahead of time and stored in the freezer. You will be rolling it up into one big log shape that will be wrapped and frozen, then later sliced when you're ready to eat one.

The fats and oils in the log provide for a pliable texture when frozen, so it's not too hard to slice with a knife. Sliced and warmed in the dehydrator for 2-3 hours (or overnight), they develop a warm "baked-like" quality.
Making Raw Cinnamon Rolls
For this recipe you will be creating your nut and seed flour using a high speed blender, like a Blendtec or Vitamix, as a flour mill. Alternatively you can use a food processor, but it will produce a coarser dough consistency.

Figs are another great food to consume for their bowel moving properties as well as the mucus dissolving attributes.
To make the cinnamon swirl ingredients a food processor works very well.

Traditional cinnamon roll swirls, depending on regional-styles, are typically made with a combination of cinnamon, white sugar and often raisins placed on dough layer with a coating of butter.
In this recipe however we just go straight for the dried fruits, using both raisins and well as dried mission figs. Coconut oil also provides a healthier option over butter, which we add to the nut/seed flour.
These soaked, puréed and dehydrated fruits create a nice sticky sweetness. You can also alternatively use other dried fruit or pulp varieties, like mango, blueberries, acai or goji berries, for different taste sensations that don't necessarily involve cinnamon.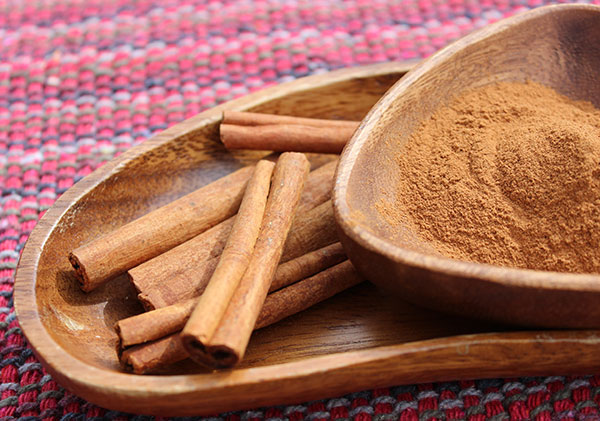 Since cinnamon is the highlighted flavor that makes a cinnamon roll a cinnamon roll, we like to freshly grind sweet Ceylon or Cassia cinnamon sticks to create the powder used in our recipe. This gives it a that potent cinnamon spice and increases more of the health benefits that cinnamon provides.

Helpful Tips When Making This Recipe
This recipe is best if you make the fruit cinnamon swirl filling the day before and allow it to chill in the fridge so it thickens slightly. It is easier to roll when it is firm rather than freshly processed.
It is good to make sure when rolling out your dough that your rectangle shape is somewhat even at the edges. This will provide the best looking cinnamon rolls when sliced.

Place your fruit filling 1/2-1" from the dough edges to avoid it from squeezing out the ends when you roll it.
You can use flax or chia seeds or (half and half). If you prefer a lighter colored pastry flour it is good to use either golden flax or white chia seeds for best presentation.
Allow the dough to sit for 20 minutes so the flax or chia flours have time to absorb some of the moisture content from the date purée.

Cinnamon Roll Recipe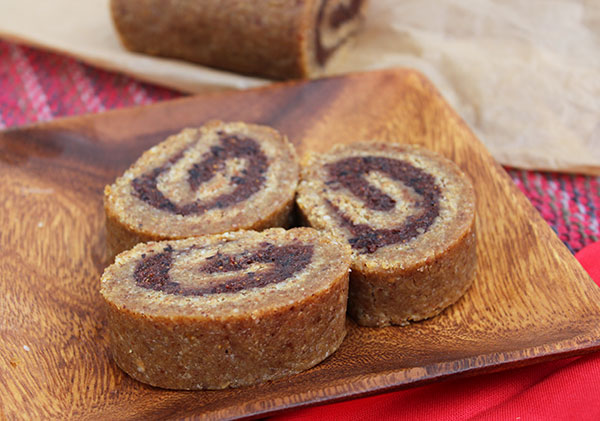 Although cinnamon rolls are typically served with some kind of sweet glaze or icing, we find that they have just the perfect amount of sweetness. However, if you want to go traditional you can always try a dribble of maple syrup, agave or coconut nectar.

Ingredients
      The Pastry Dough:
1 1/4C brazil nuts
1 1/4C almonds
1 1/4C golden flax or chia seed (or half & half)


1C dates
1/4t sea salt

3T coconut oil

2-5T pure water (if needed to process)

    The Cinnamon Swirl Fruit Filling:
3/4C soaked raisins
3/4C soaked black figs (w/stems removed)
3/4C water (enough to barely cover the raisins and figs)
3T cinnamon powder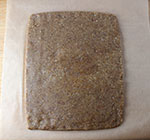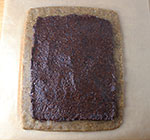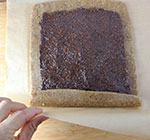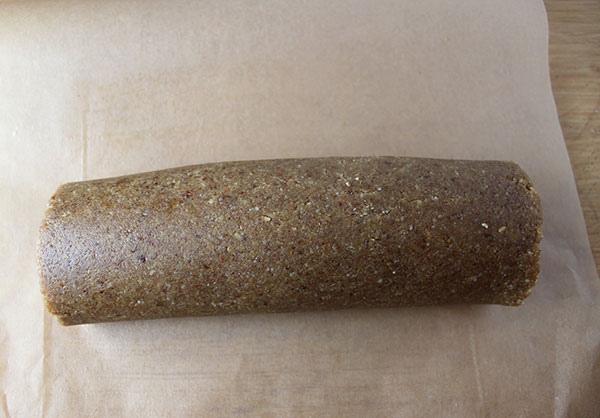 Directions:
Soak your figs and raisins in 3/4C pure water, pressing them down firmly to submerge. Soak overnight or at least 4 hours.
Grind up flax or chia seeds in a high speed blending device to create a fine flour.
Place in a large bowl.
Grind up almonds and brazil nuts into a fine flour, also using a high speed blender.
Mix the flour ingredients together thoroughly and set aside.

Process dates, salt and coconut oil in the food processor.

Add flour mix and process until a dough is formed.
Add a small amount of water (usually 1-2T) if needed to achieve this goal.
Place dough in a bowl and split evenly in half.
Take one half of the dough and roll out, with a rolling pin onto a piece of wax paper.
Form into a rectangular shape, about 1/4" thick, using a spatula to make the edges even. Repeat process for the other half.
Combine your cinnamon swirl ingredients in a food processor. this should produce a thick paste-like consistency.
Spread out half of the swirl mix onto the dough rectangle, about 1/2-1" away from the edge.
Begin to roll up the dough, using the paper to lift it up and roll it over until a log shape is formed.
Wrap up with paper and immediately place in the freezer, laying on a flat surface.
Repeat the same process for the other log.
Leave in the freezer overnight.
Slice off cinnamon rolls about 1" thick or more if desired.
Place in the dehydrator on medium-heat setting for 2-4 hours, or overnight for a baked-like cinnamon roll breakfast pastry.

Serve warm straight from the dehydrator! Drink with a hot cup of herbal tea and enjoy!
These cinnamon rolls are a great substitute for the traditional morning donut, pastry or muffin and are nice to have on hand if you happen to get a craving.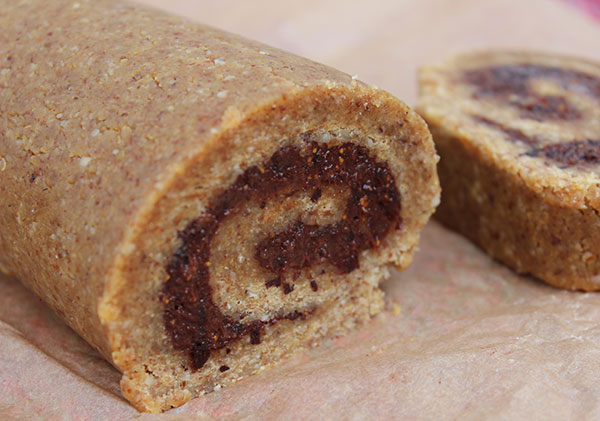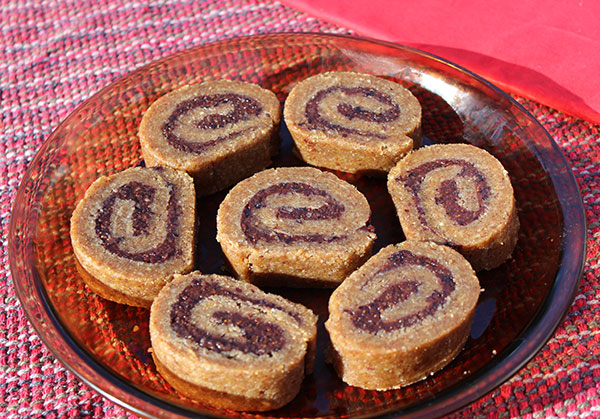 When preparing recipe and dessert alternatives, we try to keep them naturally nutritious, but still super tasty.
Hope you enjoy this one...  its one of our personal favorites we've been making for many years!

Other Related Pages