Lemon Bar Recipe, Healthy Lemon Bars Made with Superfoods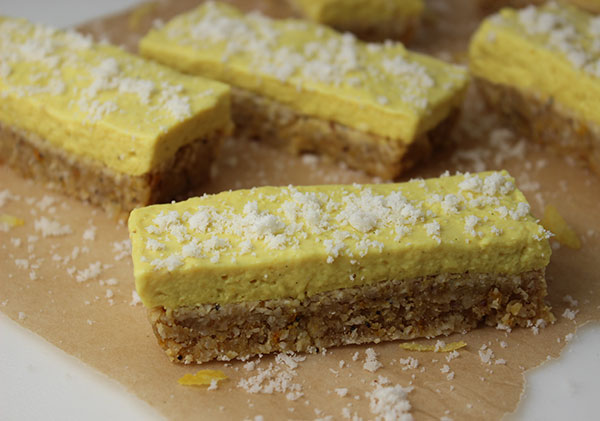 This lemon bar recipe is a zesty lemony sweet treat as well as an energy dense fuel source. It is almost 100% raw, minus a bit of lakanto sugar, and completely vegan.
A step or two up from the traditional lemon bar, we substitute some of the usual standards, like butter, flour and white sugar, with coconut oil, nut meal and a blend of natural sweeteners.

If you're not familiar with making healthy desserts raw vegan style, some of the ingredients used in this recipe might seem a bit odd.

For one, we use an ample amount of irish moss gel in the filling, along with a few other less common foods like golden berries, mulberries and fresh coconut meat. This combination, we have found through personal experimentation, provides one of the best lemon bars we have ever tasted.
Irish moss is a seaweed commonly used in raw desserts to provide thickness and smooth texture, perfect for a lemon bar filling. It is virtually tasteless and basically takes on the flavors of other ingredients in the recipe.
White mulberries are a common fruit used in desserts for their superior sweet vanilla custard-like taste, the golden berries add tartness, while the creaminess of fresh coconut meat is just pure necessity for this lemon bar.
In many of our desserts we additionally like to incorporate a number of top superfoods whenever possible and in this one we have added in a few of our favorites including bee pollen, astragalus, maca as well as pine pollen.

Although we intentionally made this recipe more on the low glycemic side, using some raw honey along with the zero calorie sweeteners lakanto and stevia, you can always add other sugars if you prefer. Coconut sugar, coconut nectar, lucuma powder, and monk fruit extract are other viable options, but keep in mind they may alter the color of the end result if you are looking to achieve a lemon-yellow dessert. Xylitol sugar or clear agave nectar can be better alternatives for presentation purposes.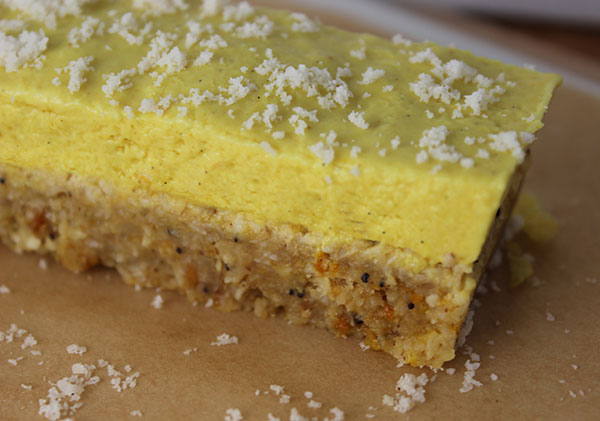 This is a three part lemon bar recipe, beginning with the crust, then the topping and lastly the filling.

Ingredients
Lemon Bar Crust:

1 1/2C shredded coconut
1 1/2C brazil nuts
3T bee pollen
2T maca powder

1/2C white mulberries
1/2C pure water

1/2C raw honey
4T chopped dates

1/4t green stevia powder

1t poppy seeds
1/4t turmeric powder
1/2 vanilla bean (scrapped) or 1t vanilla powder
Directions:
Soak the mulberries in 1/2C pure water for a few hours.
Grind up the brazil nuts in a food processor and make a nut meal.

Add to a bowl and do the same with the shredded coconut, processing to a fine flour.
Add in all other crust ingredients and mix together in a bowl.
Mold the crust, about 1/4-1/2" thick, into a wax paper-layered rectangular baking dish or dessert pan.

You can either add the filling straight to the crust OR dehydrate it to develop a more baked crust-like texture using the following method.

Dehydrating the Crust:
Remove crust from the pan with the paper underneath and flip over onto a dehydrator screen.
Dehydrate for 6 hours to develop a crust-like texture.

Place the dessert pan over the top of the crust and turn over into the pan.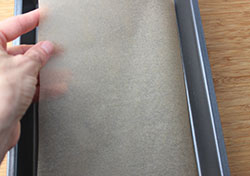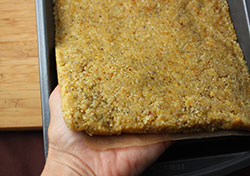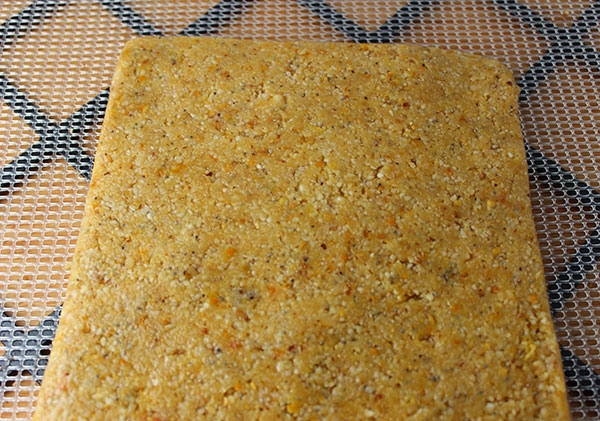 Ingredients
Lemon Bar Filling:

2C irish moss gel
1/2C coconut meat
2T white mulberries
2T golden berries
1/4C lemon juice
3T coconut oil
3/4C lakanto sugar or coconut sugar (will turn darker color)
2 droppers clear stevia solution
1T pine pollen
1T astragalus powdered extract
2t lemon zest

1/4t turmeric powder

Directions:
Prepare irish moss gel the day before and refrigerate. (See recipe below.)
Soak white mulberries  and golden berries in 1/4C lemon juice for a few hours.
Crack open a fresh white Thai coconut and scrap out 1/2C of coconut meat and add to a high speed blender mug.
Add the rest of the above ingredients and blend on high until creamy smooth.
Pour onto your dehydrated crust or non-dehydrated crust and spread out evenly.
Cover and place in the fridge for at least 8 hours to set or freezer for 4 hours.

Remove and add a layer of powdered coconut sugar to the top.
Cut into lemon bar slices.
Store in fridge or freezer.
Serve chilled.

Lemon Bar Topping

1/2C shredded coconut

1/2C pure water
3T lakanto sugar

Soak coconut in 1/2C water for 1 hour.
Place the water absorbed coconut in a bowl.
Mix with lakanto sugar.
Place in dehydrator on a tray with a teflex sheet for 8 hours or until dry.
Use as is for a topping or grind into a flour and use like powdered sugar.

This lemon bar recipe makes about 16 lemon bars, depending on how you slice them. They can be stored in the fridge in an airtight container and will last many days, if you don't eat them before then!

Our recipe can also be made without the filling by adding lemon zest and lemon juice instead of water to the crust recipe and dehydrating it for approximately 8 hours. This produces a chewy lemon bar cookie-type dessert great for travel or a lunchbox snack.
Other Related Pages