Crone Candy Recipe, A Sweet Treat for "Women of the Waning Moon"
Here's a crone candy recipe designed specifically for women of "the waning moon", the cycle of a female's life called MENOPAUSE.
Certain herbal allies, like american ginseng, dong quai and vitex, can be very supportive to women going through the different stages of menopause. This is a way to consume their tonifying goodness in a delicious and healthy sweet treat.

We use the term "crone" in the higher sense of the word, meaning a wise woman and spiritual teacher.
As sesame tahini-based snack, their also full of calcium. Calcium is one of those essential minerals needed more in menopausal years and beyond when females are more susceptible to conditions like osteoporosis.
Menopause is often a time of intense hormonal fluctuations due mostly to the ultimate decline in estrogen levels. Like soy products, sesame seeds are also known to be high in phytoestrogens. These are plant-based xenoestrogens not produced by the body's endocrine system but can be consumed through food sources. Dietary estrogen is believed to encourage mild estrogenic-like effects.   
Other nutritive ingredients include bee pollen, royal jelly and blue-green algae. We also use our homemade raw carob powder to give these balls a chocolately flavor which simultaneously helps camouflage strong tasting herbs like dong quai.

This one tastes similar to our halva recipe, which is another superfood-packed alternative if you're Not female or Not specifically going through menopause. Likewise, you might enjoy any of our other healthy desserts.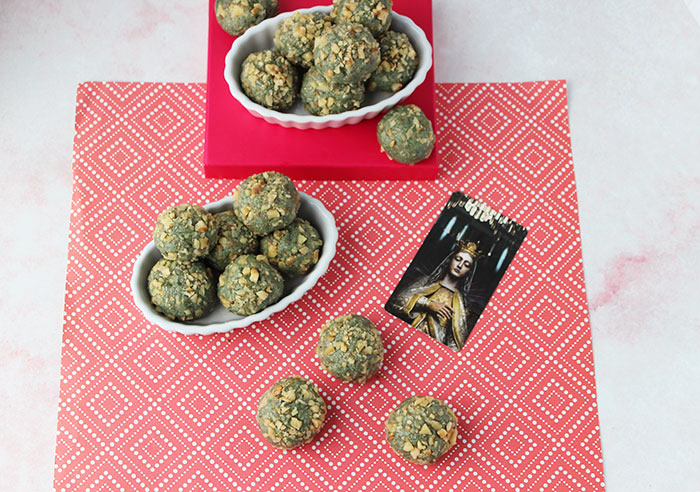 Crone Candy Recipe

Our crone candy recipe is a version inspired by herbalist Rosemary Gladstar, author of "Herbal Healing for Women" and one of our great teachers of the herbal plant world (ie: we're a graduate of her Sage Mountain Herbal Studies Program).
We adjusted the herbal ingredients slightly and also include vitex and wild yam for additional benefits. Plus, as we mentioned, include blue-green algae... one of our favorite microalgae powders.

Ingredients:

1C sesame butter
1/2C honey
2t royal jelly freeze-dried powder (6 opened capsules)
2T bee pollen
2T carob powder
1T blue-green algae
2T american ginseng powder
1T dong quai powder
1T vitex (chaste berry)
1T wild yam
chopped walnuts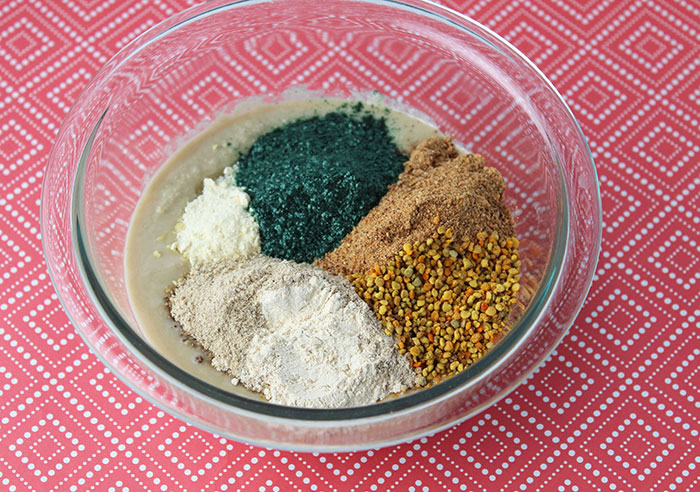 Directions:

Blend all ingredients together in a mixing bowl.
Roll 1T portions into small bite-size pieces.
Roll in chopped walnuts.
Store in the fridge or freezer in an airtight container.
Makes about 17 balls.
Enjoy crone candy with a nice hot cup of sage tea. Sage leaves are known for their beneficial influence on menopausal symptoms like hot flashes and night sweats.
It is best to limit intake of these potent herbal treats to not more than two a day.

Precautions:

It is always important to seek the advice of a qualified health professional before adding herbs and certain foods to your diet. This is especially the case if you have symptoms of perimenopause, menopause or postmenopause. Avoid this crone candy recipe if pregnant or nursing. Consult your physician if you have a serious medical condition or are taking any prescribed medications.

Affiliate Disclaimer: This section contains affiliate product links. If you make a purchase through one of our recommended links, we will receive a small commission at no additional cost to you. Thanks for the support!
Other Related Pages