Key Lime Pie Recipe, Raw Vegan Using Superfoods

Our vegan key lime pie recipe is a no-bake pie made with non-customary ingredients plus, as always, a few superfood surprises.

What are Key Limes?
Key limes are a type of lime unique to the U.S. Florida Keys, hence the name. In our research, we found one 2016 study observing this particular key lime species, Citrus aurantifolia, and its potential anticancer properties.
Like baby limes, they are about one third the size of a regular lime but are more fragrant and slightly tarter. We use authentic key limes in this pie, however, you can of course use the standard lime fruit as the key lime variety is sometimes harder to find in most markets.
Traditional Key Lime Pie Recipe Vs. Raw Vegan
While the key lime pie recipe has been traced back to the early 20th century, interestingly, one of the original versions was utilized by sponge fishermen off the coast of the Florida Keys. This was supposedly because they could easily blend the non-perishable ingredients.
The traditional way to make this trendy dessert does not require baking but rather is a chemical reaction (called thickening) that occurs from blending egg yolks, canned sweetened condensed milk with the acid in lime juice. Most recipes these days usually bake the pie for a short period of time to avoid the health risks of consuming raw eggs.

In our recipe we use other raw vegan "uncooking" methods that are frequently employed when making live food desserts, like cheesecake, pudding and pies.

We had to play around a bit with the different ratio of ingredients, but finally got it just right and the recipe below is the end result. While conventional key lime pie is similar to lemon meringue pie, ours is more like a cross between a custard and a cheesecake.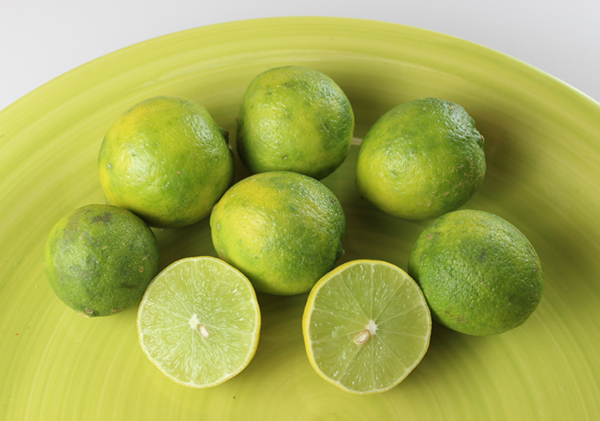 The creamy rich consistency is created by combining the smooth texture of blended cashew, hemp seed and tiger nut flour together with the thickening quality of both coconut oil, raw honey and irish moss gel. All of these ingredients firm up very nicely when refrigerated or can likewise be frozen and thawed for an hour or so before serving.

Full of healthy energizing fats and superfoods, just a small piece of pie will most likely satisfy the appetite. This is because, like many of our dessert recipes, we try to pack in as much nutrition as we can, so it tastes good but is also good for you! :)

One of our superfood favorites in this key lime pie recipe is moringa powder, which also gives it a slightly green look. But don't be concerned, the green leafy taste is well masked by the citrus and other ingredients.
We always recommended using fresh vanilla bean paste (scrapped from the inside of a sliced open bean), it really does add an extra special element when making raw desserts.
One of the things we realized when preparing this recipe for the first time is that key limes, because they are so tiny, take a bit more time to juice. You can always, like we mentioned, use regular limes, but in our opinion key limes add a slightly more pleasant and unique flavor. We used about 10 key limes per 1/2 cup of juice, just to give you an idea.

Vegan Key Lime Pie Recipe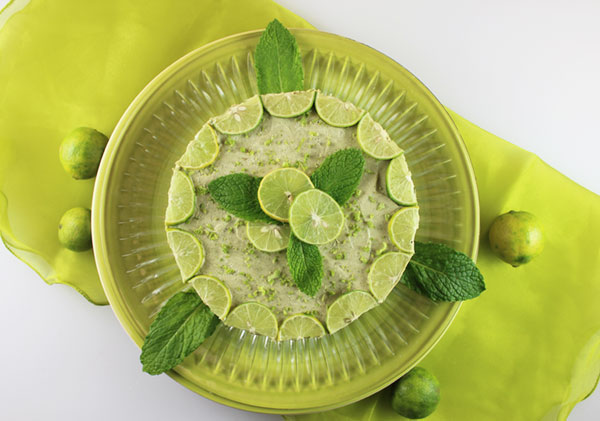 Here are two vegan key lime pie recipe versions, depending on the size you wish to make. Because this pie is so rich, it doesn't take much to fill you up and satisfy a sweet tooth. For this reason, we like to use the smaller spring form pan. If you have more than two mouths to feed or are making the dessert for a special occasion, the standard 9" spring form pan recipe is the better option.

Ingredients
The Crust:
6 1/2" Springform Pan
1/2C almonds
1/2C dried coconut
1/2C dates
1/2T bee pollen
1T water
1T mesquite powder
9" Springform Pan
1C almonds
1C dried coconut
1C dates
1T bee pollen
2T water
2T mesquite powder
The Filling:
6 1/2" Springform Pan

1C cashews
1/4 hemp seeds
2T tiger nut flour
1/2C lime juice
1/2C nut milk
1/4t stevia
1/4C raw honey
1/4C coconut oil
2T irish moss gel
1/2 a scrapped vanilla bean or 2t vanilla extract
1T moringa powder
1/4t lime zest
9" Springform Pan

2C cashews
1/2 hemp seeds
4T tiger nut flour
1C lime juice
1C nut milk
1/2t stevia
1/2C raw honey
1/2C coconut oil
4T irish moss gel
1 scrapped vanilla bean or 4t vanilla extract
2T moringa powder
1/2t lime zest
Directions
For the Crust:
Grind up almonds and dried coconut in a food processor into a fine meal.
Add dates, mesquite powder and process with ground almond and coconut meal.
Add approximately 1T water, if needed, until the mixture begins to form a dough-like consistency when processed.
With a paper towel, cover the bottom of a spring form pan with coconut oil, sprinkle bee pollen on the bottom plus a layer of shredded coconut to prevent sticking.
Press down your dough onto the bottom of the pan to create the crust layer.
Freeze to harden while you make your filling.
For the Filling:

Soak the cashews in lime juice and nut milk for several hours.
Place all the filling ingredients into a high-speed blender and blend until a creamy, smooth thick consistency is achieved.
Remove crust layer from the freezer and pour the filling on top. Spread out evenly with a spatula and place back in the freezer for at least several hours to firm up.
Decorate your vegan key lime pie recipe with lime zest, key lime slices, hemp seeds, mint leaves or edible flowers.
Unlatch the spring form pan and carefully remove the ring.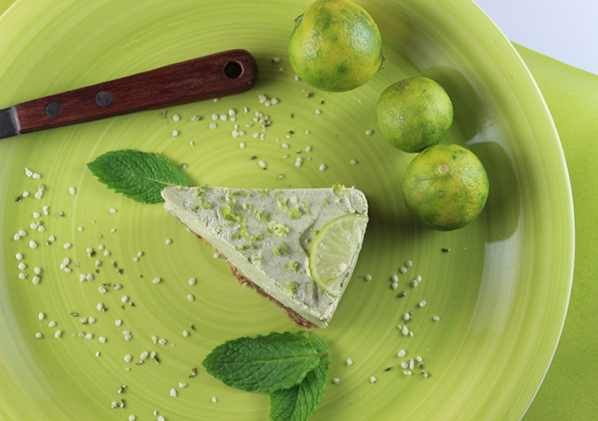 The pie can be stored in an air tight container in the fridge or freezer. In the fridge it will last up to a week or more. If you tend to eat it slowly, the freezer is a good alternative.
If you slice the pie pieces up before freezing you can remove them for individual servings. Allow to thaw for about 1-2 hours for best texture.
Visit our other raw vegan recipes for more raw vegan replacements to your favorite meals and desserts.

Other Related Pages