Cashew Cheesecake Recipe, Using Raw Vegan Ingredients

This is our raw cheesecake recipe that is similar to the thick rich taste of traditional cheesecake but without the cheese, eggs or white sugar. It also doesn't require baking, just a blending and processing of the filling and crust layers.

Most raw vegan cheesecake recipes that we know of often use cashews as one of the main ingredients because they create the perfect taste and cheesecake-like texture. We also like to use hemp seeds for their omega-3 oil content, as well as creaminess and cheesy flavor.
Other common ingredients incorporated to produce a thick smooth quality include irish moss gel and coconut oil.

This recipe is slightly lower in calories than standard baked varieties but is still not something to eat large portions of if you're looking to shed unwanted body weight.
It can, however, be used as a substitute for the average cheesecake as it is far more digestible and energy enhancing than most non-vegan versions. Dairy products can be notoriously mucus-forming for some people and are less appropriate for those who are lactose-intolerant.

Most cheesecake's either use cream cheese or ricotta-style cheese. The cheese-like flavor in most raw non-dairy cheesecake's is ultimately created by blending tangy fruits, like lemon or pineapple, with some natural sweetener and the fats contained in nuts, seeds and oils used.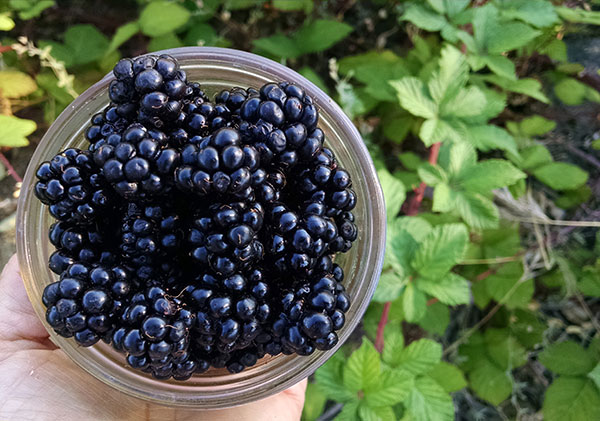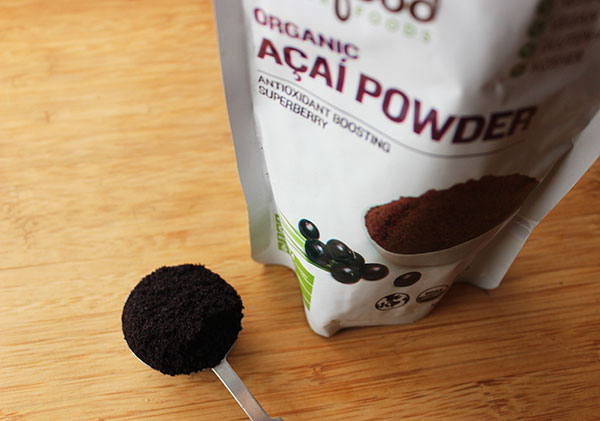 Berries, of course, make the best cheesecake topping but you can use any kind of fruit you'd like. Here in this cheesecake recipe we use antioxidant-rich, juicy, plump wild blackberries, raw honey and acai berry powder.

Benefits of Ingredients Used
Hemp Seeds - Hemp seeds are a nutritious, easily digested plant-based protein and omega fatty acid source. They are a particularly good source of omega-3 fatty acids, a common nutrient missing in most average diets that are typically higher in omega-6's. The hemp seed averages in at about a 3 ½ to 1 ratio of omega-6 to omega-3, which is unusual for most nut and seed variations, aside from chia and flax seeds.

Coconut Oil - Coconut oil contains medium-chain fatty acids that are easily digested and utilized as an energy-burning fuel source, rather than stored as body fat. Coconut oil is one of the good fats under investigation as a dietary supplement for those with neurodegenerative diseases like Alzheimer's as it potentially serves as an alternative energy fuel for the brain. (Source) Consuming moderate amounts of the oil has also been shown to increase HDL "the good cholesterol" and improve thyroid function.

Irish Moss - Irish moss does not have a strong taste like other seaweeds and is easily camouflaged with other foods. It is a polysaccharide-rich superfood and source of natural carrageenan. Irish moss has been used for centuries as an energy-building food, nourishing those recovering from fatigue, physical injury or traumas. (Visit our irish moss gel page for a recipe on how to make your own.)

Natural Sweeteners - In many of our dessert recipes we like to use a blend of natural sweeteners. This filling is already somewhat sweet from the cashews, so a little bit of raw honey in combination with a touch of stevia powder helps to achieve the perfect balance of sweetness. Some people might also prefer other low glycemic sweeteners, like a quality agave or even xylitol. Dried pitted dates make the perfect crust layers for raw pies and cheesecakes when blended with nuts or seeds.
Assorted Other Superfoods - We also utilize other top superfoods including: bee pollen in the crust, astragalus extract in the filling and acai berry in the topping. Desserts are a great way to consume many of these superfood favorites and can be interchanged depending on current health objectives. Instead of astragalus, for example, others like maca or ashwagandha can also be substituted.

Raw Blackberry Cheesecake Recipe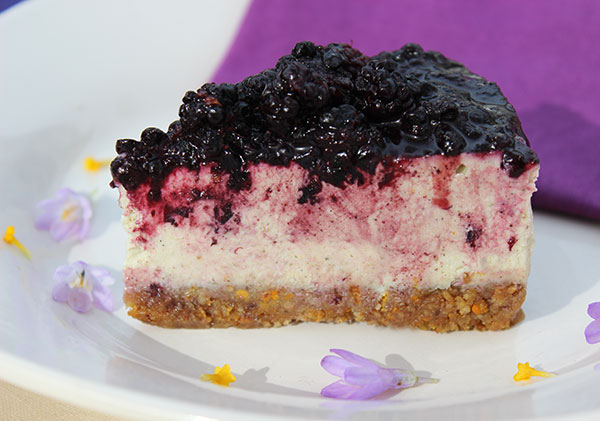 It is best to use a high speed blender when blending your filling ingredients. This will further help to break down the cashews and hemp seeds and produce the smooth consistency you want for your cheesecake layer.
For this recipe we give ingredient proportions for both a 6 1/2" springform pan and a standard 9" springform pan.
Ingredients:
The Crust

6 1/2" Springform Pan

1/2C walnuts
1/2C dried shredded coconut
1/2C dates
1T bee pollen
1T water
1T mesquite powder
9" Springform Pan
3/4C walnuts
3/4C dried shredded coconut
3/4C dates
1 1/2T bee pollen
1 1/2T water
1 1/2T mesquite powder
The Filling
6 1/2" Springform Pan
1 1/4C cashews
1/4C hemp seeds
1/2C lemon juice
1/2C nut milk
1/4t stevia
1/4C raw honey
1/4C coconut oil
2T irish moss gel
1/2 a scrapped vanilla bean or 2t vanilla extract
1T astragalus powdered extract

1/2t lemon zest
9" Springform Pan
2C cashews
1/2C hemp seeds
3/4C lemon juice
3/4C nut milk
1/2t stevia
1/2C raw honey
1/2C coconut oil
3T irish moss gel
3/4 a scrapped vanilla bean or 3t vanilla extract
1 1/2T astragalus powdered extract

3/4t lemon zest
Berry Topping
6 1/2" Springform Pan
1T raw honey
1T acai powder
1C wild blackberries
9" Springform Pan
1 1/2T raw honey
1 1/2T acai powder
1 1/2C wild blackberries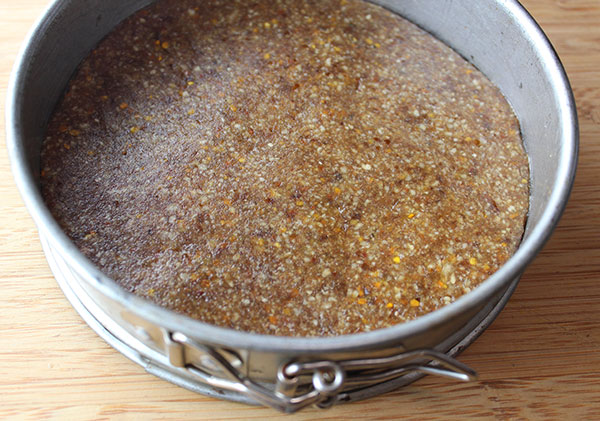 Directions:
Directions for the Crust
Grind up walnuts and dried coconut in a food processor into a fine nut meal.
Add dates, mesquite powder and continue to process.
Add approximately 1T water until the mixture begins to form a dough-like consistency when processed.
Place the crust dough in a bowl and mix in bee pollen.
With your clean hands or a paper towel cover the bottom of the springform pan with coconut oil and a layer of shredded coconut to prevent sticking.

Press down your dough into the bottom of the pan for your crust layer.

Place in freezer to harden while you make your filling.
Directions for the Filling
Soak the cashews in lemon juice and nut milk for several hours.
Place all the filling ingredients into a high speed blender and blend until creamy smooth.
Add a small amount of nut milk if needed to blend, but use as little as possible to maintain a thick consistency.

Pour on top of crust layer, spreading out evenly, and place back in the freezer to firm up.
Directions for the Topping
Mix the acai powder with raw honey and 1t berry juice.
Fold in fresh blackberries (or frozen thawed blackberries).
Add topping to the top of your cheesecake and place back in the freezer.
Allow to set in the freezer 2-4 hours before serving.

Remove from the springform pan,

Add any final adornments to your cheesecake by decorating with some lemon zest, bee pollen or fresh edible wild flowers.

Slice, serve and share with friends!
This cheesecake will last several days in the fridge, in an airtight container, or much longer when kept in the freezer.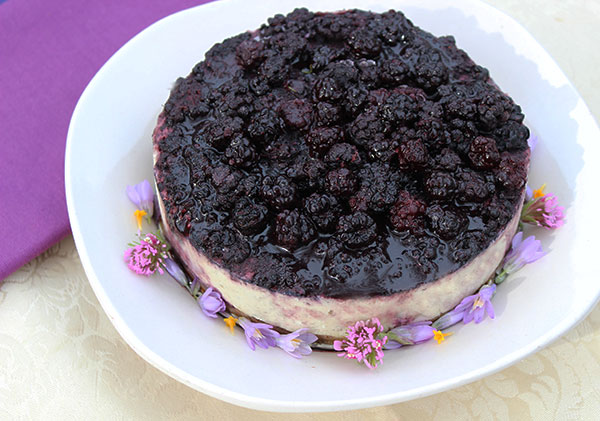 Desserts like this one are a nice alternative when you get the craving for traditional cheesecake. This one can also be a great dessert to bring to potlucks or even family get-togethers. Raw dessert recipes are often the perfect way to introduce others to the possibilities when using all raw vegan ingredients.

This is likewise an excellent cake to make for other special occasions and birthday celebrations, but it is not something we would recommend eating on a regular basis.
Consuming a condensed amount of nuts and seeds can definitely clog you up if you eat too much. Fortunately, it only takes a small piece of this cheesecake to satisfy a sweet tooth!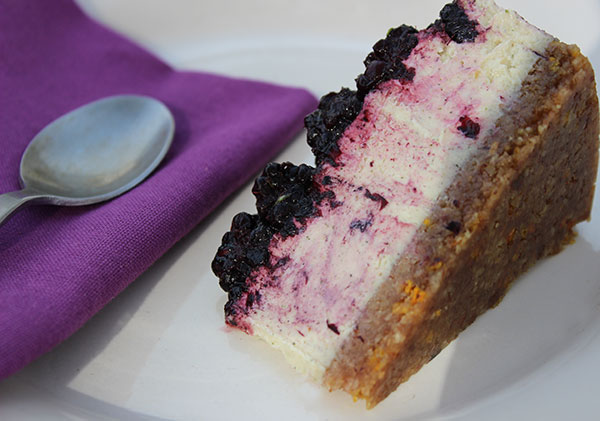 We like to enjoy this decadent dessert with a nice cup of homemade herbal tea.
(Visit our herbal tea recipes page to learn how to make your own homemade tea blends.)

Other Related Pages