Raw Vegan Pecan Pie Recipe, Spiked with Adaptogens

This vegan pecan pie recipe, although scrumptiously sweet, is a little different from the traditional classic American variety you may be accustom to eating. Our version is made with all raw whole food ingredients and natural sweeteners as well as a few tonic herbal superfood adaptogens for an energizing boost.
This recipe we tend to make on special holiday occasions, when celebrations are in order and food and desserts are frequently one of the main events. Under such circumstances it is nice to have a healthy pecan pie recipe ready to fall back on if you wish to avoid ingredients like corn syrup, eggs, refined flour, butter and white sugar.
How to Make Raw Vegan Pecan Pie
In this homemade pecan pie we attempt to recreate the same kind of buttery and creamy texture reminiscent of old-style variations. To do this we add in a few of the raw vegan substitutes often used these days in many raw vegan desserts.
This includes the top three: chia seeds, irish moss gel and coconut oil, all of which allow for the appropriate pie-like quality when chilled and set for a few hours' time.

All that is involved for this recipe is preparing and pre-soaking one or two ingredients ahead of time and then molding, processing and, of course, decorating your pie with glazed raw and dehydrated pecans.

Adding Superfoods to Desserts
If you are familiar with some of our other recipes on this website you know we like to occasionally incorporate various top superfoods into our dessert recipes. This is an excellent way to boost nutritional quality of your pies, cakes and cookies, yet also provide a satisfying and tasty treat for you, your family and friends to enjoy in moderate quantities.

The two superfoods we like to use in this recipe are ginseng and eucommia bark powder, both for flavor and richness as well as tonifying effects.
One popular way to make pecan pie is to incorporate alcohol, like bourbon, into the list of ingredients. So, instead of using straight-up alcohol, we use half a shot of ginseng tincture, made with organic vodka. However, it is also possible to use powder extracts if you desire to go alcohol-free.

About Pecans and Their Nutritional Components

The pecan tree is native to Mexico and southern parts of the United States and is known to live and produce nuts for 300 years or more given the ideal growing conditions in which to do so. They are the official state tree of Texas.
Pecans, as we discuss on our nuts and seeds page, contain significant amounts of manganese which is helpful for the production of superoxide dismutase as well as important for normal brain activity and proper functioning of the nervous system.
Along with smaller quantities of copper and magnesium, the nuts are also relatively high in thiamine, additionally important for nerve-related conditions as well as cardiovascular health.
The polyphenols in whole raw pecans were demonstrated in some current research to increase antioxidant activities as well as cause a reduction in serum lipid levels in rats fed high fat diets.

One ounce (28g) of pecans contains 4.3g of protein and 20.2g of fat with 1.7g saturated fats, 11.4g monounsaturated fats and 6.1g polyunsaturated fats. Pecans are high in omega-6's, with about four times less omega-3 fats than walnuts. One ounce of pecans contains 193 calories.

Vegan Pecan Pie Recipe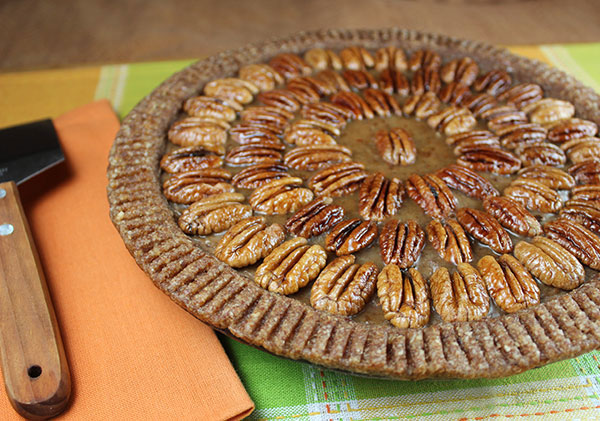 This pecan pie recipe is for a standard 9" glass pie dish.

Although this pie is relatively sweet, you can make some adjustments to lower the glycemic index by using mulberries instead of dates, which are naturally less sweet than the date fruit. Using other sweeteners, like coconut nectar and yacon, instead of raw honey can also reduce the sugar load quite a bit, if that is a dietary concern.

Ingredients
Dehydrated Whole Pecans for Topping:
1-1 ½C whole pecans
1T honey mixed with 1T pure water
Pie Crust:
2C almonds (raw or preferably soaked and dehydrated)
1C pitted dates or mulberries
pinch of sea salt
pure water if needed
Pie Filling:
2 cup pecans
1/4C soaked chia seeds (1T dry chia soaked in 8T water)
4T irish moss gel
3/4C pitted dates
2T coconut sugar
4T coconut oil
3T ginseng tincture
2-3t eucommia bark powder

1 scrapped vanilla bean (or equivalent)
2t cinnamon
1/4-1/2t freshly grated nutmeg
pinch of sea salt
Glaze Topping:
3T coconut syrup, yacon root syrup or honey
2T coconut oil (melted)
1 whole pitted date mashed or pureed
1/2t cinnamon
2 droppers English toffee stevia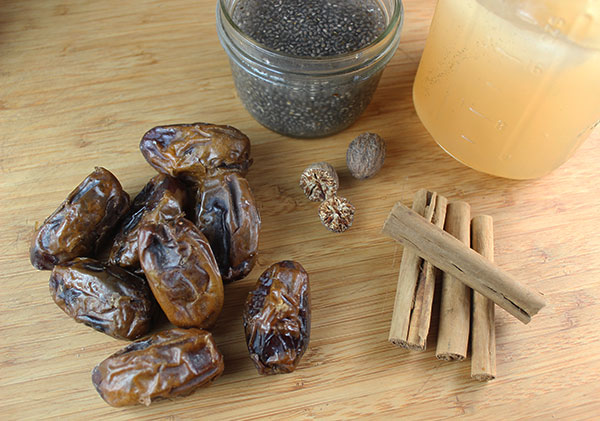 Directions
Pecans for Topping

Soak whole pecans in pure water for overnight or at least 8 hours. (This is also a good time to soak the almonds to dehydrate for the pie crust if you desire.)
Add pure water to 1T honey to create a thin glaze.
Coat whole pecans with this mixture.
Dehydrate until crunchy.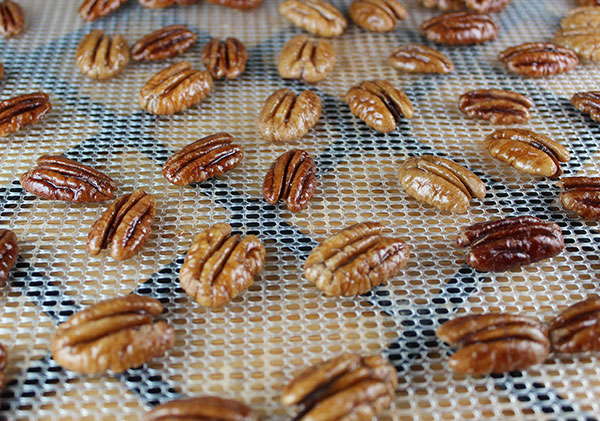 Pie Crust

Make a fine almond flour by processing raw dry (or soaked and dehydrated) almonds and a pinch of salt in a food processor.
Add in dates (or mulberries) until a dough-like texture is achieved.
You may need to add 1-3T of pure water, a little at a time, if required for dough consistency.
Press pie crust dough into a coconut oiled glass pie dish, molding it evenly on all sides and decorate exterior crust using a fork print design.
Cover and place in the freezer, while you make the filling.
Pie Filling

Soak chia seeds for at least 30 minutes.
Make a pecan flour by processing dry pecans in a food processor.
Blend soaked chia, ginseng tincture and irish moss gel in a high speed blender.
For a creamy smooth pie filling, blend the flour plus remaining ingredients in the blender or you can also use a food processor.
Place the filling into your pie crust. Cover and set aside in the fridge.
Glaze Topping

Mash up one soft mejool date into a paste-like texture.
Mix in English toffee stevia, melted coconut oil, cinnamon and coconut nectar (yacon syrup or raw honey).
Spread the glaze of the pie filling and decorate with glazed whole pecans.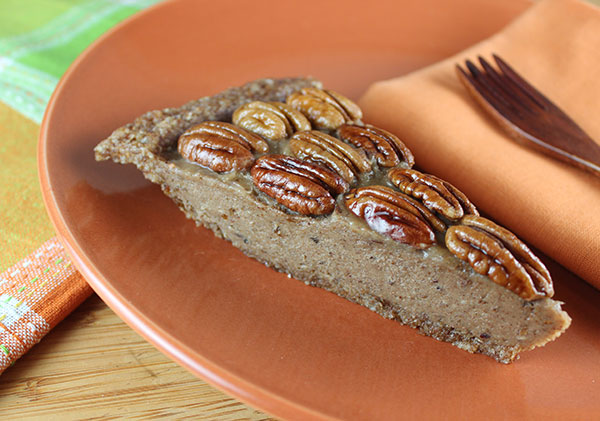 This vegan pecan pie recipe is best served at room temperature or slightly chilled right out of the fridge. It will last covered in the refrigerator for many days and much longer in the freezer if you won't be consuming it immediately.

Check out some of our other vegan recipes and raw vegan desserts, like our chocolate cake, lemon bars, peanut butter cookies and superfood ice cream in the links below.

Affiliate Disclaimer: This section contains affiliate product links. If you make a purchase through one of our recommended links, we will receive a small commission at no additional cost to you. Thanks for the support!
Other Related Pages