Wild Edible Flowers, Adding Wild Color to Your Superfoods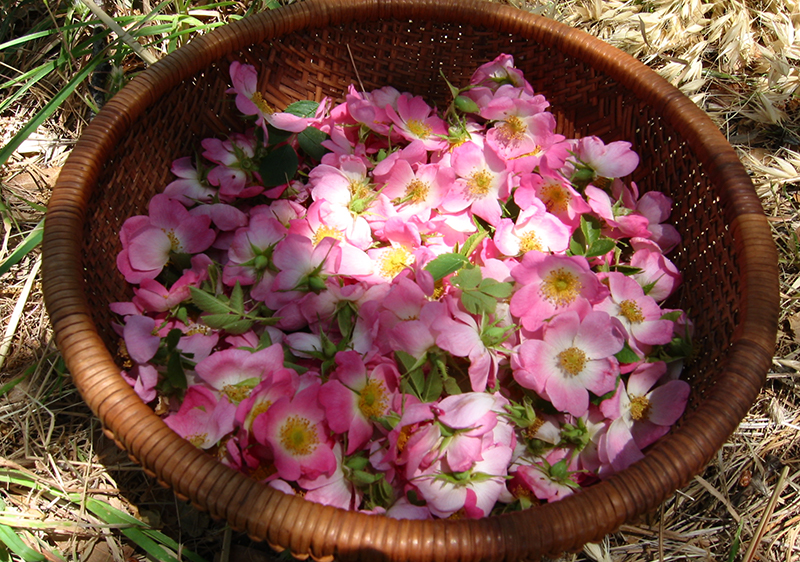 Wild edible flowers are nature's gift to the senses and there is nothing quite like using their color, fragrance and sweet flavors to complement a superfood dessert, salad or meal.
We love them for their pretty, playful energies, their floral essences and delightful, happy fragrance!
Historically, eating flowers has been around for quite some time. It was primarily Ancient Greek, Roman, European and Chinese herbalists who first recorded the medicinal and culinary uses for wild flowers. 
There are records dating back to 140 BC and in Victorian times they were a common delicacy, often eaten fresh on salads or used as a garnish. 
Using Wild Edible Flowers as a Garnish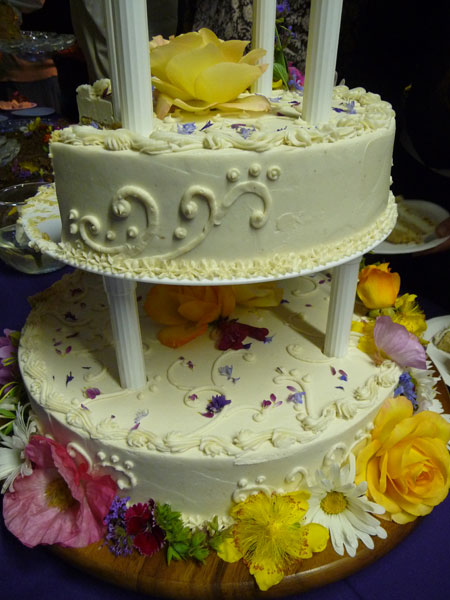 Wild edible flowers add a delicate beauty and grace to any meal. They are a great way to decorate desserts, like a raw chocolate cake or coconut cream pie.
They are commonly used today in gourmet food stylizing, adding artistic accents that entice the palette and are simply a must for any kind of wedding cake.  (The one on the right is actually a raw lemon cake made by the Cafe Gratitude raw bakery in 2010.)

We like to toss them atop raw soups or a salad of wild greens and sprouts.
Some flowers, like wild violets or rose blossom, are great for adding flavor to herbal teas and nut milks.
You can also make floral water, honey or oil infusions with many edible flower varieties.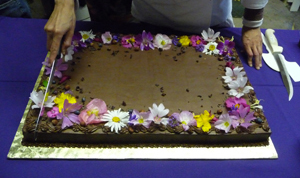 There are in fact several wild varieties of edible flowers that many people do not know you can actually eat.
Here is the list of our favorites. Some have a nice flavor as well and a burst of color and floral scent.
It is helpful to keep a vase of freshly picked wild edible flowers on hand in your kitchen, so you remember to use them after preparing a meal or dessert.
List of Edible Flowers
Studied in depth by Dr. Edward Bach, it was discovered that all flowers have their own unique subtle essences that vibrate at frequencies that can be used as medicine by the human body.
Here we will also include their vibrational energy effects as flower essences.
1) Chicory (Cichorium intybus)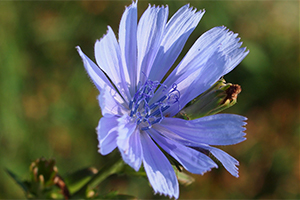 These periwinkle colored flower petals are actually related to the daisy family and native to European countries.
The flower essence of chicory is good for helping one deal with excessively needy people or children.
2) Dandelion (Taraxacum officinale)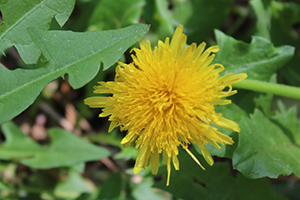 Dandelion flowers have traditionally been used to make "dandelion wine" in many cultures.
The bright yellow petals are totally safe to consume and are said to contain beta-carotene, vitamin C, iron and other nutrients, including lecithin.
The flower essence of dandelion is for those who want a dynamic and lively energy that is effortless.
3) Honeysuckle (Lonicera Species)
We love to pick honeysuckle in early spring and summer growing right in the wild. You can suck the sweet nectar out of the tubular ends, it is quite heavenly tasting.
The flower essence helps one with being fully present, learning from the past, but letting it go.
4) Manzanita (Arctostaphylos viscida)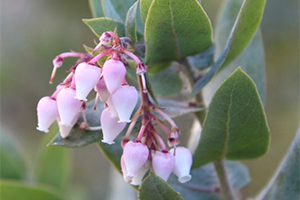 These lovely little bells shaped flowers are sweet and delicious. They actually make quite a pleasant tasting tea, using 2T flowers to 1 cup water.
The flower essence of manzanita flower helps one to integrate the spiritual self within the physical world.
5) Nasturtium (Tropaeolum majus)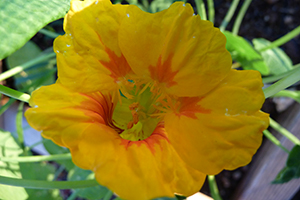 This is a sweet, yet spicy, peppery flower that is quite large but so tasty.
You can grow them in your garden from seed, but they also grow wild in some regions. They are high in vitamin C.
The flower essence of nasturtium is good for letting go of excess thinking and grounding oneself into the body.
6) Poppy (

Papaver species

)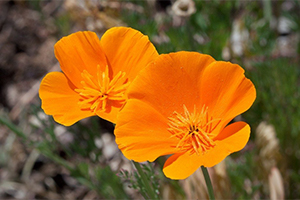 Bright orange poppy is always a delight to the eyes and now you know you can actually eat the petals.
In California, being the state flower, they are illegal to pick in some areas. We've been lucky enough to find poppy growing wild in privately owned locations.
Poppy flower helps one to find the inner sense of knowing that comes from following the heart.
7) Red Clover (Trifolium pratense)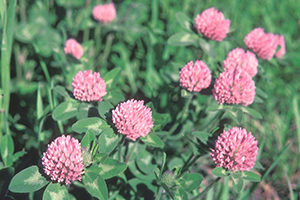 The wild edible flowers of the red clover blossom can be made into a nutritive herbal tea but there soft pink petals are also a sweet addition to accent a salads or appetizers.
The flower essence of red clover blossoms signifies awareness of self and remaining calm in the mist of chaos.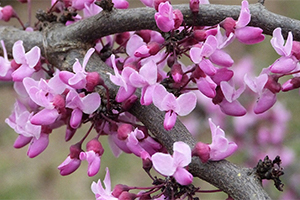 8) Redbud (Cercis canadensis)
Redbud is one of my personal favorite trees. There tiny pink, yet hardy blossoms completely cover the branches, becoming quite a display in early springtime. They are so succulent, sweet and hot pink!
The flower essence of redbud helps us to allow the heart to open, committing and engaging in relationships with family and community.
9) Rosemary (Rosmarinus officinalis)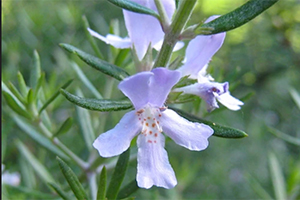 Not always found in the wild, but it is often found everywhere and grows back year after year, stronger and harder.
We love to pluck the dainty, purple petals and place them around a plate of savory raw food. The flower essence of rosemary relates to having a warm and vibrant physical presence.
10) Sage (Salvia species)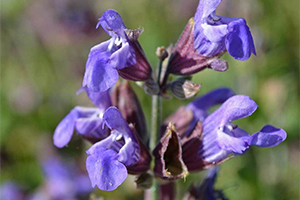 The sage flower is other great one, similar to the rosemary flower, but slightly larger in size.
The flower essence of sage blossom is helpful for gaining perspective and wisdom from life experiences.
11) Violet (Viola cornuta)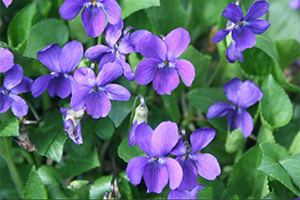 We love the time of year when the smell of wild violets drifts on a warm breeze.
These sweet purple flowers can be used for making violet honey by infusing them for several weeks. The taste is like a burst of floral bouquet on the palate.
The essence of violet flower is helpful for elevating perceptions and spirituality.
12) Water Lily (Nymphaea odorata)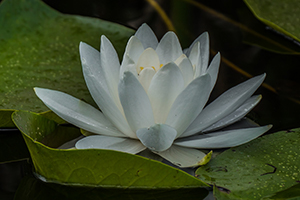 The infamous "lotus blossom" seen for it's ability to rise above the muddy waters and blossom with new life.
A symbol of spiritual enlightenment. And now you know you can eat the petals!
Water lily flower essence helps one with leadership and the power to manifest magnificence.
13) Wild Rose (Rosa species)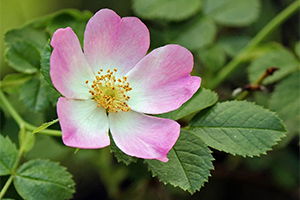 Wild rose blossoms are one of my favorite petals to eat. They are quite a bit smaller than the ornamental varieties, but with a sweet wild flavor you can't beat.
We like to use wild rose petals in our chocolate milk recipe for this reason.
The flower essence of wild rose offers vitality and hope to inspire and motivate.
See the basics on wildcrafting wild plants so you can get the most out of your harvesting adventurers.
You should always know the wild edible flowers, wild edible plants and wild herbs you are eating. Double check to make sure in a flower guide if you have any doubt.
There are some flower species out there that are poisonous so it is good to stick with what you know for sure.
Wild edible flowers are here to use and have fun with. Enjoy their splendor, energy and shades of pigment that will decorate your superfoods and make you happy!
Other Related Pages