Raw Coconut Cream Pie Recipe Made with Superfoods
Our coconut cream pie recipe is our superfood dessert version of the conventional coconut cream pie.  Because this is a raw vegan recipe, we skip the cooking process and leave out the eggs, milk, butter and cream.

Instead of dairy we use our rich homemade almond milk in addition to young Thai coconut meat.  This gives it a cream pie-like consistency and is the perfect combination when used with chia, coconut oil, cacao butter and irish moss gel. 
There is nothing quite like a cream pie that uses raw coconut scrapped fresh from the coconut shell.  Most cooked recipes add dried shredded coconut, not quite as exciting, flavorful or nutritious.

In addition, this recipe is not full of empty calories and refined white sugar like that of other more traditional cream pies, but is packed with whole super nourishing top superfood ingredients.  It can virtually be consumed as a meal all on its own.

Most coconut cream pie recipes boil and simmer their ingredients before chilling the pie.  This recipe is raw and not heated in anyway, which preserves the nutrients and enzymes needed for energy and digestion.

Made with Natural Low Glycemic Sweeteners
This pie includes a combination of two natural sweeteners, xylitol and stevia, plus a few dates processed into the pie crust.  Xylitol is a low calorie, low glycemic, alkaline sweetener often used as a replacement for white sugar as it has a similar crystalline-type structure, but is a far healthier option.
It is important when purchasing xylitol that you use an organic source that does not come from genetically modified corn or other vegetable extractions.  The highest quality xylitol comes from the birch tree and most brands will state this as a source on the label.

An Energy Dessert That Contains Fiber and Omega-3's
"A cream pie is a type of pie filled with a rich custard or pudding that is made from milk, cream, flour, and eggs."  (Source)

This dessert is a high energy fuel source especially beneficial to those who are physically active.
Hemp seeds are a highly digestible complete protein-rich food and chia seeds are a hydrating "endurance food" helpful for slowing the conversion of carbohydrates into sugar, providing a long burning fuel source. 

We soak and blend the chia seeds before using them and their gelatinous quality helps to firm up the pie and assists in creating a nice custard-like consistency.  If you prefer a really "white" coconut pie, we would recommend using white chia seeds as oppose to brown.

Chia is one of those seeds we use a lot in other recipes, like our onion bread recipe as well as our raw protein bars. 
Hemp and chia are two great fiber-rich seeds that help to counterbalance the high fat content coconut cream pies are typically known for.

Both chia and hemp seed are high in the hard to find omega-3 fatty acid and provide a nice balance to the higher omega-6 content found in the coconut meat.

Coconut Cream Pie Recipe
Ingredients:
Coconut Cream Filling
2C soaked chia (5 1/2T dry chia soaked in 2C coconut water)
4C coconut meat (6-8 coconuts)
1/8C almond milk
1/4C lucuma powder
1-2 vanilla beans (scrapped)

1C xylitol powder
3 droppers clear stevia or 2t stevia powder
1T irish moss gel or 1t irish moss powder
4T coconut oil
4T cacao butter (melted)
1/2-1C shredded coconut (for the top)

Hemp Seed Pie Crust
2C hemp seeds
8 med dates
2T coconut water
1/2t shilajit (optional - gives it a baked pie crust flavor)

pinch of salt

We use a standard 9" spring-form pan, but you can also use a regular pie dish if you prefer.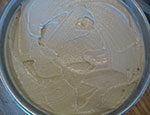 Directions:
For the Crust
Process the hemp seeds for 1 minute in a food processor.
Add the rest of the crust ingredients and form into a dough.
Press this dough into the bottom of a spring-form pan or pie dish.
Place covered in a freezer while you make your pie filling.

For the Coconut Cream Filling
Crack open your coconuts carefully with a cleaver and scrap out 4C coconut meat.
Place in the refrigerator.
Using the coconut water soak your chia seeds, completely covering, for about 30 minutes or until they have absorbed the liquid. 

Prepare all your ingredients in a high speed blender using a tamper to blend your cream to thick and barely pourable consistency.
(This will give you the best results after it chills and continues to set.)
Place the filling on top of your crust, spreading evenly with a spatula.
Sprinkle your shredded coconut over the top of the pie.
Freeze for at least 4 hours before serving.  Or freeze overnight and allow to thaw for 1-2 hours before serving.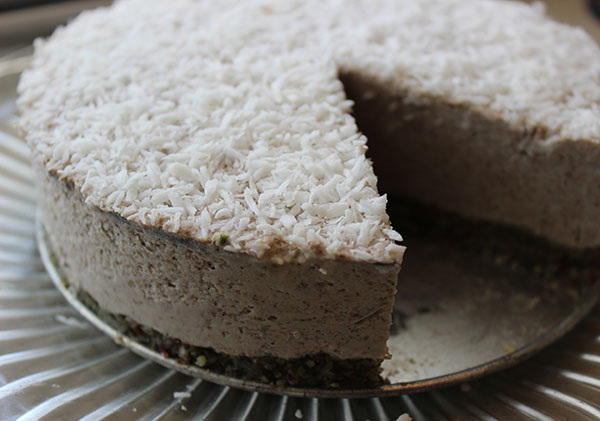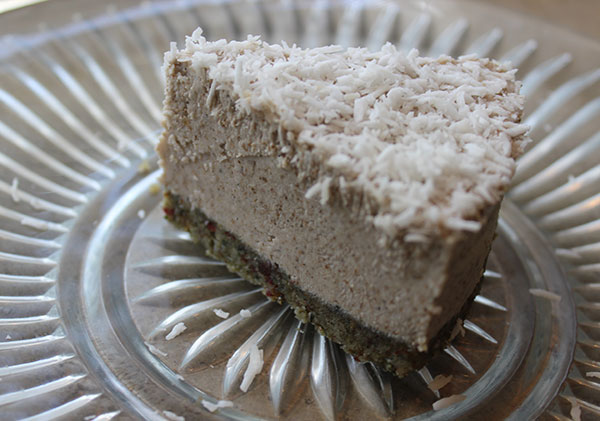 Other Pie Options
You can also add either carob powder or cacao to the recipe to create a chocolately cream pie version.  Additionally, you can use other types of nuts in your crust base.
Another technique we use for the shredded coconut topping is to soak and dehydrate it with a dash of coconut nectar.  This gives it a crunchy texture and a toasted flavor.

This coconut cream pie recipe is great for those special occasions. We've already made it for three different celebrations this year and its only May!
Like most of our raw desserts, it is fun to eat them as a main meal, since they are packed with energizing superfoods.  But, desserts like this one are also a welcomed surprise at most any party, gathering or potluck.
Other Related Pages